You will need:
1

1 leek
Total weight: 220 grams
Measures:
How long does it take?
Fulfillment
| Preparation | Resting | Start to finish |
| --- | --- | --- |
| 15 min. | 15 min. | 30 min. |
Preservation:
Several days in the fridge, covered by a plastic film.
At what time?
When will I finish if I start the recipe at a certain time?
When should I start for the recipe to be ready at a certain time?
Work this out...
---
Step by step recipe
---
Stage 1 - 1 min.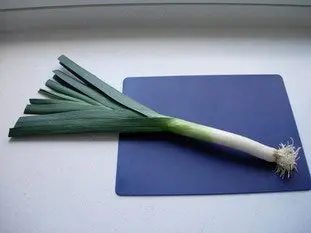 Place leek in front of you.
---
Stage 2 - 1 min.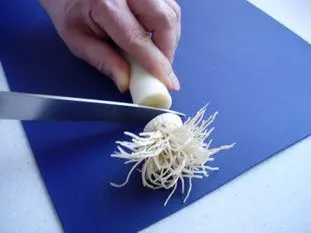 Cut off roots.
---
Stage 3 - 1 min.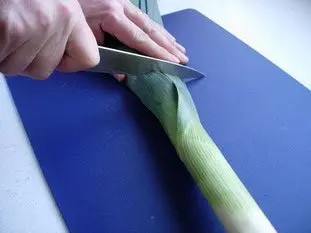 Trim off ends of leaves, leaving about 4 cm or 2 inches of green.
---
Stage 4 - 3 min.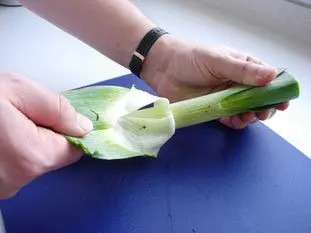 Remove outer leaves, usually dry or wilted, by pulling downwards.
---
Stage 5 - 2 min.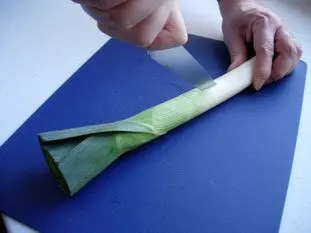 Split the top in two lengthways, starting at 7-8 cm or 3 inches from bottom (white).
---
Stage 6 - 2 min.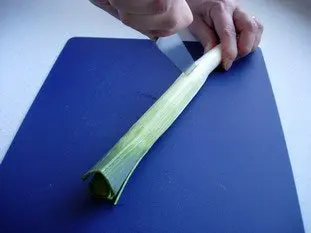 Turn and cut again, so that the top part is split into four.
---
Stage 7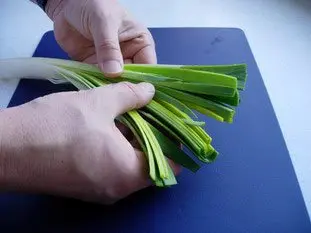 The top of the leek will now be like a tassle, making cleaning easier.
---
Stage 8 - 15 min.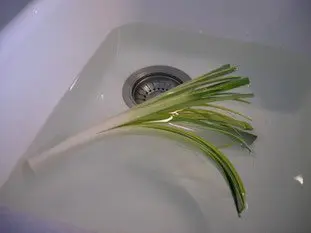 As with all muddy vegetables, leeks should be soaked for 15 minutes in warm water, so that all the particles of earth are loosened and leeks can be cleaned easily.
---
Stage 9 - 5 min.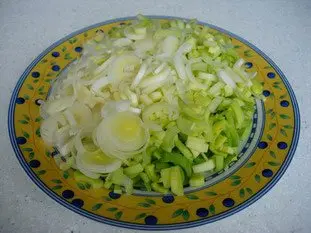 Once chopped, leek is now ready for use in your recipe.
---
Stage 10
You can also watch how to do it in this short video.
Nutritional information
% are calculated relative to a Recommended Dietary Intake or RDI of 2000 k-calories by day for a woman (change to a man).
Source
Home made.
More recipes?
This recipe use (among others)
News list of cooking-ez.com
Sign up to receive the latest recipes (next batch due to be sent on 2019-06-23)
Note: We'll never share your email with anyone else.
Follow this recipe
If you are interested in this recipe, you can "follow" it, by entering your email address here. You will then receive a notification immediately each time the recipe is modified or a new comment is added. Please note that you will need to confirm this following.

Note: We'll never share your email with anyone else.