For
320 g

, you will need:
1

300 g walnuts

2

3 tablespoons caster sugar
Total weight: 345 grams
Change for:
Measures:
How long does it take?
Time required
| Preparation | Cooking | Start to finish |
| --- | --- | --- |
| 12 min. | 10 min. | 22 min. |
Keeping:
Several weeks in a closed jar.
At what time?
When will I finish if I start the recipe at a certain time?
When should I start for the recipe to be ready at a certain time?
Work this out...
---
Step by step recipe
---
Stage 1 - 10 min.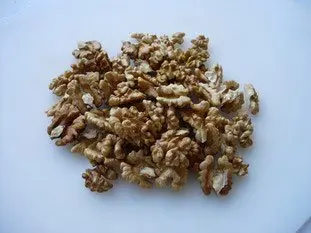 Peel 300 g walnuts.

If the kernels are large, chop roughly with a broad-bladed knife.
---
Stage 2 - 5 min.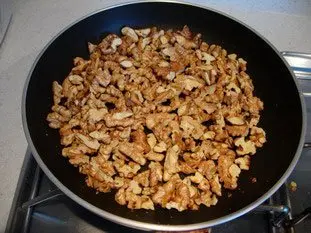 Put a frying pan on high heat without fat.

Roast nuts while stirring continuously to prevent burning, for 4 or 5 minutes.

They should brown slightly, but without smoking or burning.
---
Stage 3 - 1 min.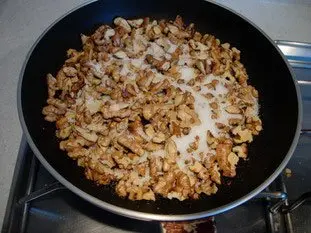 Turn down the heat.
Add 3 tablespoons
caster sugar
, it will melt and quickly caramelize.
---
Stage 4 - 5 min.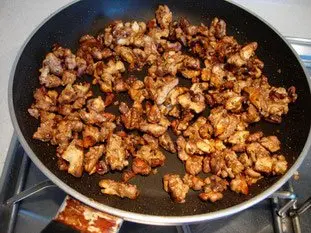 Continue stirring, still over low heat, until all the nuts are coated with caramel but not burned.
---
Stage 5 - 1 min.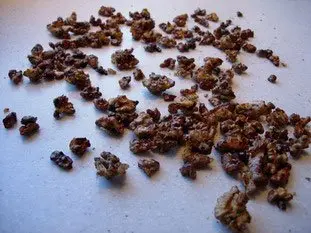 When nuts are well caramelized, tip out the nuts onto your working surface to stop the cooking quickly.

Stir nuts with a fork to prevent them sticking together while they cool.

Wait until they are cold before eating, they're better...
Nutritional information
% are calculated relative to a Recommended Dietary Intake or RDI of 2000 k-calories or 8400 k-joules by day for a woman (change to a man).
Recipes which use this 1
Source
Home made.
More recipes?
This recipe uses (among others)
| | |
| --- | --- |
| | Walnuts: You can check-out other recipes which use it, like for example: Jura bread, Poitevin twist, ... All |
| | Caster sugar: You can get more informations, or check-out other recipes which use it, for example: Profiteroles, Crusty pistachio, almond and apricot flan, Flaked almond tart, Biscuit de Savoie sponge cake, Sautéed pears with custard and orange syrup , ... All |
News list of cooking-ez.com
Sign up to receive the latest recipes (next batch due to be sent on 2019-07-21)
Note: We'll never share your email with anyone else.
Follow this recipe (as 2 people already do)
If you are interested in this recipe, you can "follow" it, by entering your email address here. You will then receive a notification immediately each time the recipe is modified or a new comment is added. Please note that you will need to confirm this following.

Note: We'll never share your email with anyone else.