List of recipes using Peas:
9 recipes

(without meat)

List of recipes using Peas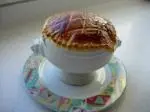 This recipe is made from vegetables cut small and blanched, mixed with pieces of salt-cod and cream, then baked in small soup dishes with a puff pastry lid.
252K
3.9
4 hours 35 min. September 7
th
2018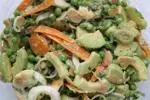 This very green salad recipe combines the soft texture of peas, avocado and hard-boiled eggs with the crunch of flaked almonds. Shavings of Mimolette add a colourful finishing touch with both flavour and bite.
16K
29 min. July 5
th
2020

Vegetables cut in small dice and precooked, fish fillet, lemon juice, olive oil, and 2 minutes in the microwave.
321K
2
3.8
1 hour 19 min. June 11
th
2011

A fresh salmon escalope just salt and pepper with small dices of small vegetables.
223K
1
5
1 hour 28 min. June 22
th
2011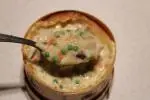 The classic hot box method is a delicious way to serve Mont d'Or cheese. For a more original twist, this recipe adds mixed vegetables. The cheese is baked in the oven as usual, but filled with the diced vegetables and mushrooms.
31K
3.8
58 min. February 26
th
2017

Tomatoes filled with a tuna mayonnaise and rice mixture, in a fun ladybird shape that kids will love, served with a puree of fresh garden peas. A good way to encourage them to eat vegetables.
246K
1
4
1 hour 47 min. February 21
th
2011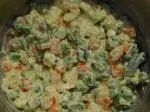 A macédoine is simply vegetables diced small (carrots and turnips) or cut small (green beans) with peas. The different vegetables are cooked separately "à l'anglaise", then thoroughly drained. They are only combined at the end in a mayonnaise dressing.
116K
3.8
1 hour 24 min. September 3
rd
2014

Minestrone is a traditional Italian soup. It is made with a mix of vegetables and a poultry stock. It is quite simple to make, but preparing all the vegetables takes time. There are doubtless as many minestrone recipes as there are Italian cooks, but here is my version.
150K
4.3
3 hours 30 min. May 29
th
2011

This pea risotto recipe is finished with a typical Italian 'mantecare': mascarpone and Parmesan are incorporated at the end of cooking to make the dish incomparably smooth.
86K
4.9
1 hour 26 min. September 23
th
2012