List of recipes using Fresh spinach:
8 recipes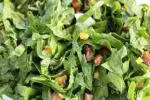 It might not be obvious, but spinach can be eaten raw, as in this salad, where the leaves are shredded and mixed with croutons, lardons (bacon bits) and hard-boiled eggs.
3,040 42 min.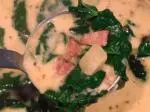 This is a delicious recipe for an end-of-winter soup. It combines fresh spinach with diced potato and smoked sausage.
11,540
4.9/5 for 20 ratings 49 min.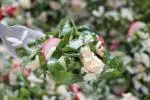 Spinach is usually eaten cooked. Though seen less often, it can also be eaten raw, like in this salad where it is combined with rice, crunchy radishes and tinned tuna.
2,130 27 min.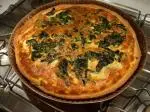 This quiche recipe uses a traditional filling mixture, but adds slices of smoked salmon and blanched spinach.
109,565 1
4/5 for 10 ratings 1 hour 16 min.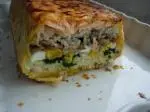 Koulibiak is a traditional russian recipe from, usually served in a flat puff pastry fish shape. Here is an easier version, in a pie dish.
107,008
4.7/5 for 3 ratings 3 hours 19 min.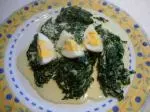 Fresh spinach, simply wilted, reheated in a sauce of thickened cream with shallot, and served with quarters of hard-boiled egg.
67,645
3.8/5 for 17 ratings 1 hour 43 min.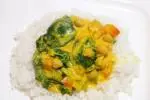 A mix of vegetables (pumpkin, leek, chickpeas...) cooked in coconut milk and curry spices. Serve this dish with rice, preferably basmati, for an authentic touch.
2,374
5/5 for 2 ratings 57 min.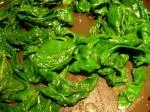 For most people (and me most of all), spinach brings back bad memories of canteens... But, well prepared, it's a fine and delicate vegetable which goes remarkably well with scrambled eggs, fish, and many another things. Here are two ways of preparing it.
97,742
3.5/5 for 8 ratings 1 hour 9 min.