List of recipes using Beef :
11 recipes
List of recipes using Beef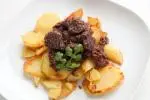 In classic recipes of this kind, the meat is simply cooked in the wine as it comes. This version is different: the red wine is reduced first separately on low heat with herbs, onion and carrot, then the meat is cooked long and slow in this. This method gives the meat a richer, more intense flavour.
38K
3.8
3 hours 53 min. March 12
th
2017

Bœuf bourguignon is a traditional recipe of French cuisine (bourguignon means from Burgundy). It's chunks of meat cooked slowly with bacon, onions, carrots and mushrooms in red wine.
450K
3
2.5
4 hours 20 min. February 21
th
2011

Carbonnade is a dish that comes from Belgium and the north of France. Large pieces of beef are slowly simmered in beer with carrots and onions. Here's a personal version.
193K
1
4
2 hours 44 min. November 13
th
2011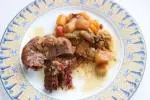 In this recipe a good joint of beef is slow-cooked, surrounded by an assortment of vegetables in small chunks. To concentrate the flavours, the cooking time should be long at a moderate temperature and, most important of all, the dish should be sealed. By the end of cooking, the vegetables will be...
56K
4.1
5 hours 28 min. December 30
th
2019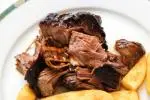 For this delicious roast, the beef joint is seared all over, then wrapped in slices of grilled (broiled) bacon before the final long, slow roasting in a bag with aromatic ingredients (bayleaf, shallots, carrot, thyme and chilli). Cooked this way, the meat will be well done on the outside, meltingly...
49K
4.5
5 hours 39 min. July 30
th
2017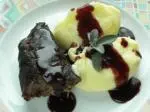 This recipe cooks beef chuck (or braising steak) in two stages: first, slow-cooked in red wine "in the bag", then fried and served with potato purée and a red-wine sauce.
88K
4.3
3 hours 57 min. April 27
th
2017

Parmentier is a French version of shepherd's pie. This variation has slow-cooked meat on top of the mashed potato (purée), instead of underneath. A red-wine sauce adds the finishing touch.
97K
4.2
6 hours 7 min. November 6
th
2011

Cooking red meat well is not as simple as it might seem. Even if you start with high quality meat, with poor cooking it can become dry and tough. Here's a way that will guarantee you a perfect result.
449K
2.7
1 hour 24 min. October 13
th
2010

By cooking meat slowly with no added fat, it will become very tender - almost melt-in-the-mouth - and can be cut with a fork.
148K
5
4 hours 45 min. November 6
th
2011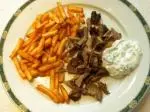 The kebab is a way of cooking meat that originated in the Middle East (the word means grill or grilled meat in different languages). The doner kebab is made up of slices of meat skewered and grilled vertically. The Turkish version is traditionally served with a yogurt and herb sauce in bread and/or...
318K
1
5
2 hours 32 min. May 20
th
2015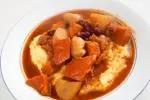 This hotpot inspired by a stay in Taos (New Mexico) is a mix of different meat and vegetables cooked long and slow, served with polenta. The preparation is rather long, as is the cooking time, but it reheats very well.
30K
3 hours 14 min. January 10
th
2018