List of recipes using Grated nutmeg:
11 recipes
List of recipes using Grated nutmeg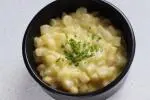 As the name suggests, this historic recipe (see below for more details) treats asparagus like peas, Napoleonic French style: first cooked the usual way, then cut small (to look like peas), cooked again in stock, and finished with a cream and egg yolk sauce.
6,163
42 min. May 2
nd
2021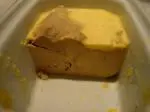 This a quite different preparation from the terrine of foie gras, this time it does not go in the oven, the liver is salted for 48 hours and it "cooks" (or cures) in this way.
520K
5
2 days 16 hours 28 min. December 23
th
2017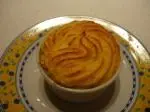 Duchess potatoes are a mix of mashed potato and egg yolks, cooked in the oven, in a decorative shape and delicious. In this recipe they top a ramekin containing a layer of mashed potato, cooked leek, and thinly sliced bacon.
260K
2
4.6
2 hours 5 min. March 4
th
2020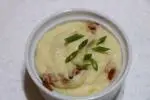 This melt-in-the-mouth cauliflower dish is a kind of purée, bound with a little potato and cooked in milk to add creamy smoothness. This makes a great accompaniment for meat, or as the main feature, served in ramekins with slivers of fried dry-cured ham.
20K
58 min. March 3
rd
2019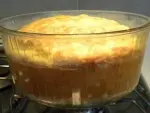 A soufflé - one of those dishes with a reputation for being tricky to get right. In fact, it's not as difficult as all that. The important thing is to break the process down into stages: start by making the bechamel sauce, add some cheese (this turns it into a Mornay sauce), then add the egg yolks...
91K
1
4.4
1 hour 34 min. September 11
th
2013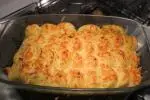 Gnocchi are a type of pasta made with flour and potatoes or, as here, semolina. For this recipe, the gnocchi are made quite large and cooked "au gratin", topped with grated cheese.
14K
2 hours 59 min. July 29
th
2020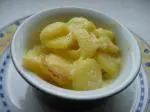 This recipe is a bit sensitive for people from Dauphiné (a French area around the city of Grenoble), many of them are sure to have the "true" recipe. Here is the version of the famous French chef Michel Guérard. The most interesting thing about gratin Dauphinois, is that it has a delicate hint of...
359K
2
5
1 hour 3 min. August 13
th
2016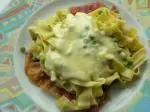 Pasta served like in NYC: tagliatelle or spaghetti with lightly fried ham, peas and a nutmeg-flavoured cream sauce.
73K
4.3
46 min. July 1
st
2013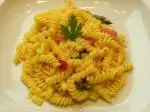 In this recipe, the pasta is cooked separately, then mixed with chunks of green asparagus, ribbons of smoked ham and a cream sauce with nutmeg.
73K
3.9
1 hour 8 min. July 21
th
2013

This classic French recipe is made with sliced potatoes baked in milk and browned on top.
1.0M
1
4.6
1 hour 47 min. February 21
th
2011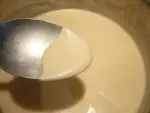 Bechamel sauce is a classic, made from a cooked butter-flour mix called "roux", where milk is added and slowly cooked. We get a thick sauce, used in many recipes.
341K
4.3
18 min. February 21
th
2011