List of recipes using Cheese:
11 recipes

(lactose free)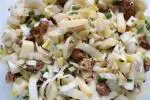 This starts out as a classic salad of shredded endives, but is pepped up with sliced spring onions, fried croutons and chunks of cheese.
1,057 31 min.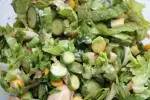 This salad is a way to make the most of the first baby courgettes (if you can get them). The crunchy little darlings are mixed with shredded lettuce, hard-boiled eggs, tinned tuna and diced cheese.
1,133 25 min.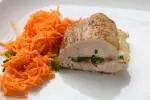 This filet mignon of pork is split, rather like an involtini, and stuffed with grilled bacon, parsley and cheese.
8,194
3.8/5 for 17 ratings 52 min.

Aligot is a traditional family dish from the Auvergne mountains in France. It is basically a potato purée enriched with cheese and stirred for a long time.
25,890
4.2/5 for 19 ratings 1 hour 17 min.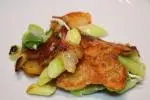 For this recipe, we make a "galette" of fried potatoes, then add layer of steamed leeks and melt cheese over the top. The galette is folded over, rather like an omelette, before being cut into portions.
6,081
4.1/5 for 20 ratings 39 min.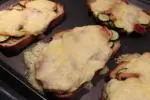 These toasted slices are topped with sautéed vegetables (courgette and mushrooms), covered with a slice of smoked ham and then slivers of cheese. Once the cheese is melted and browned in the oven, the slices should be served piping hot.
3,033
4.7/5 for 19 ratings 58 min.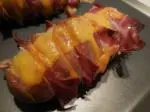 These "wallets" are potatoes boiled in their skins and sliced part-way through after cooking. The slots are filled with slices of cheese and grilled bacon and the potatoes are then baked for a few minutes the oven.
10,227
4.1/5 for 10 ratings 1 hour 4 min.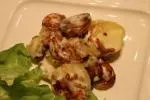 Truffade is a traditional dish from France's Auvergne region. It is made with potatoes and local cheese. Truffade originated in the mountains and is a proper winter dish, quite rich and delicious. This recipe, like with all traditional food, comes in many versions: different cheeses, ways to cook...
7,726
4.3/5 for 18 ratings 1 hour 10 min.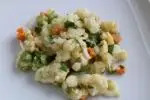 For this recipe, the cauliflower is steamed until just tender, then mixed while still warm with diced Mimolette and Cantal cheeses and a good vinaigrette.
5,052
4.5/5 for 10 ratings 31 min.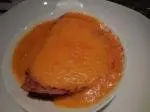 This is a French version (as served in brasseries in northern France) of the traditional Welsh rarebit. It contains boiled ham as well as the usual toasted bread and Cheddar cheese melted in beer.
16,994
5/5 for 2 ratings 33 min.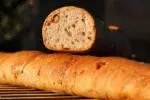 This short baguette, from the Poitou region of western France is soft-textured, made with walnuts, walnut oil and goat's cheese. As the name suggests, the bread is twisted, rather than slashed, just before it goes into the oven.
2,063 3 hours 19 min.