How long does it take?
Time required for this recipe:
| Preparation | Cooking | Start to finish |
| --- | --- | --- |
| 12 min. | 10 min. | 22 min. |
At what time?
When will I finish if I start the recipe at a certain time?
When should I start for the recipe to be ready at a certain time?
Work this out...
---
Keeping:
Several weeks in a closed jar.
Step by step recipe
---
Stage 1 - 10 min.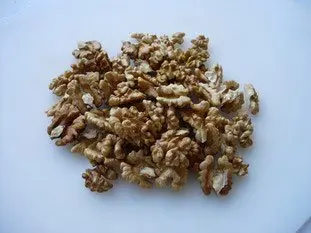 Peel 600 g walnuts.

If the kernels are large, chop roughly with a broad-bladed knife.
---
Stage 2 - 5 min.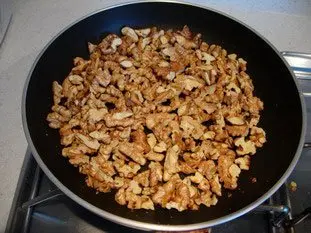 Put a frying pan on high heat without fat.

Roast nuts while stirring continuously to prevent burning, for 4 or 5 minutes.

They should brown slightly, but without smoking or burning.
---
Stage 3 - 1 min.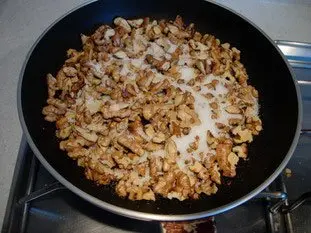 Turn down the heat.
Add 6 tablespoons
caster sugar
, it will melt and quickly caramelize.
---
Stage 4 - 5 min.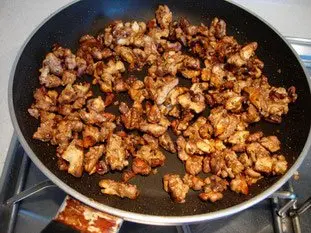 Continue stirring, still over low heat, until all the nuts are coated with caramel but not burned.
---
Stage 5 - 1 min.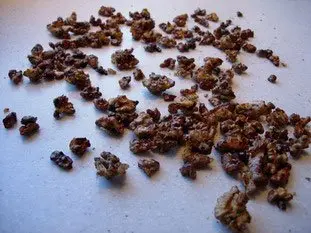 When nuts are well caramelized, tip out the nuts onto your working surface to stop the cooking quickly.

Stir nuts with a fork to prevent them sticking together while they cool.

Wait until they are cold before eating, they're better...
Nutritional information
Whole recipe
Energetic value
Proteins
Carbohydrates
Fats
4,320 Kcal or 18,087 Kj
90 gr
180 gr
360 gr
216 %
35 %
17 %
55 %
Per 100 g
Energetic value
Proteins
Carbohydrates
Fats
626 Kcal or 2,621 Kj
13 gr
26 gr
52 gr
31 %
5 %
2 %
8 %
% are calculated relative to a Recommended Dietary Intake or RDI of 2000 k-calories or 8400 k-joules by day for a woman (change to a man).
Some recipes that use this recipe

This is a chocolate cream with chopped candied grapefruit peel and caramelized nuts added to give bit of crunch. The small pot of cream is topped with an Irish coffee mousse (flavours of coffee, fresh cream, sugar and whisky).
223,468 1
5/5 for 1 ratings 59 min.
See all recipes that use it
Source
Home made.
More recipes?
This recipe uses (among others)
| | |
| --- | --- |
| | Walnuts: You can check-out other recipes which use it, like for example: Poitevin twist, Jura bread, ... All |
| | Caster sugar: You can get more informations, or check-out other recipes which use it, for example: Apple and almond gratin, Brioche galette, Lemon and grated apple tart, Crème caramel, Lemon and lime custard tart, ... All |
Other recipes you may also like
News list of cooking-ez.com
Sign up to receive the latest recipes (next batch due to be sent on 2020-09-27)
Note: We'll never share your email with anyone else.
Follow this recipe (as 2 people already do)
If you are interested in this recipe, you can "follow" it, by entering your email address here. You will then receive a notification immediately each time the recipe is modified or a new comment is added. Please note that you will need to confirm this following.
Note: We'll never share your email with anyone else.