List of recipes using Stewed apple (compote):
9 recipes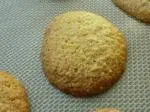 These macaroons, famous since the 16th century, are small, soft almond-flavoured cakes. This recipe is much easier to make than the one for the classic Parisian macarons.
22,100
5/5 for 18 ratings 49 min.

Amandines are small sweetcrust pastry tarts filled with fruit and topped with almond cream. Here's a rather more sophisticated version made with stewed apple, rice pudding and almond cream.
63,698
3.7/5 for 20 ratings 1 hour 10 min.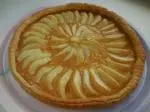 Apples and pears are combined in this sophisticated autumn tart. The pears are laid decoratively on top of stewed apple.
11,221
4.9/5 for 18 ratings 59 min.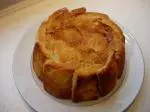 This rather special charlotte is made with toasted slices of brioche instead of finger biscuits and stewed apples. Cooked once assembled, it can be eated warm or cold.
75,899
3.8/5 for 18 ratings 2 hours 20 min.

The French semelle is a flat rectangular tart with a base of puff pastry. In this version, a layer of stewed apple is spread on the pastry, then topped with finely-sliced fruit.
32,160
4.3/5 for 11 ratings 1 hour 5 min.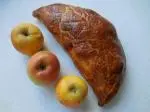 This cochelin, from the town of Evreux in Normandy, is a sort of giant apple turnover, flavoured with vanilla. It is served in slices, like a cake.
10,184
5/5 for 20 ratings 2 hours 2 min.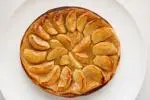 A fine apple tart, very quick to make.
69,362 2
4.6/5 for 14 ratings 51 min.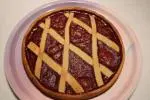 Linzer torte, or tart from Linz (Austria), has a cinnamon-flavoured crust filled with raspberry jam. The special and rather crumbly sweet pastry used for the case is made with cinnamon, ground almonds and the yolks of hard-boiled eggs. There are many different versions. In this rather unusual one,...
5,181
4.7/5 for 11 ratings 1 hour 5 min.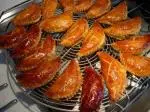 These are small apple turnovers ("chaussons") of puff pastry, filled with a mixture of caramelised almonds, stewed apple and rum-soaked raisins. To be eaten just as they are...
78,409
3.8/5 for 17 ratings 1 hour 31 min.