List of recipes using Stewed apple (compote):
10 recipes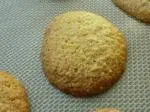 These macaroons, famous since the 16th century, are small, soft almond-flavoured cakes. This recipe is much easier to make than the one for the classic Parisian macarons.
24K
5
49 min.

Amandines are small sweetcrust pastry tarts filled with fruit and topped with almond cream. Here's a rather more sophisticated version made with stewed apple, rice pudding and almond cream.
66K
3.7
1 hour 10 min.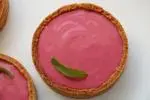 These little tarts taste every bit as good as they look. The sweetcrust pastry cases are filled with a layer of stewed apple and topped with a blackcurrant crémeux. This offers your guests a delightful element of surprise, as the apple flavour is only discovered as they eat it (but only if you've...
1,383
2 hours 8 min.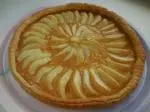 Apples and pears are combined in this sophisticated autumn tart. The pears are laid decoratively on top of stewed apple.
14K
2
4.9
59 min.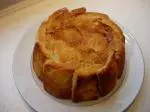 This rather special charlotte is made with toasted slices of brioche instead of finger biscuits and stewed apples. Cooked once assembled, it can be eated warm or cold.
79K
3.8
2 hours 20 min.

The French semelle is a flat rectangular tart with a base of puff pastry. In this version, a layer of stewed apple is spread on the pastry, then topped with finely-sliced fruit.
34K
4.3
1 hour 5 min.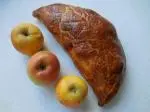 This cochelin, from the town of Evreux in Normandy, is a sort of giant apple turnover, flavoured with vanilla. It is served in slices, like a cake.
12K
5
2 hours 2 min.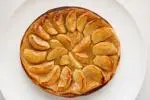 A fine apple tart, very quick to make.
72K
2
4.6
51 min.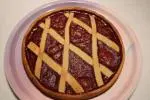 Linzer torte, or tart from Linz (Austria), has a cinnamon-flavoured crust filled with raspberry jam. The special and rather crumbly sweet pastry used for the case is made with cinnamon, ground almonds and the yolks of hard-boiled eggs. There are many different versions. In this rather unusual one,...
6,962
4.7
1 hour 5 min.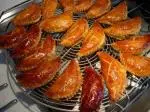 These are small apple turnovers ("chaussons") of puff pastry, filled with a mixture of caramelised almonds, stewed apple and rum-soaked raisins. To be eaten just as they are...
80K
3.8
1 hour 31 min.