List of recipes using Cured ham:
11 recipes

(alcohol-free)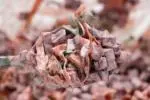 Beetroot salad is a well-known classic, but have you come across the "bistro" version? The beetroot is still diced, but raw and served with croutons and fried ham in a rémoulade dressing.
1,934 38 min.

These look like perfectly normal boiled eggs, but when the shell is cracked open - surprise! They contain a mixture of scrambled egg, cured ham, fried prawns and chives.
48,501
5/5 for 13 ratings 51 min.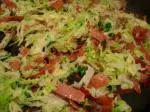 A quick recipe: cabbage julienne cooked English style, pan-fried ribbons of ham, a knob of butter and some parsley, and it's ready.
69,430 3
4.1/5 for 13 ratings 27 min.

On a slice of toasted bread: barely-cooked Spanish ham, sticks of fried chorizo, slices of peeled tomato and sliced feta.
33,777
4.5/5 for 12 ratings 1 hour 5 min.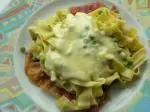 Pasta served like in NYC: tagliatelle or spaghetti with lightly fried ham, peas and a nutmeg-flavoured cream sauce.
20,996
4.3/5 for 15 ratings 46 min.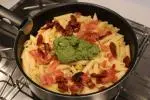 In this recipe, the pasta (whatever kind you prefer) is served with shreds of fried ham and chopped preserved tomatoes as well as a good dollop of pesto.
8,050
3.8/5 for 19 ratings 23 min.

Little morsels of boiled and raw cured ham sautéd briefly then mixed with mashed potatoes and finished as a gratin in the oven.
30,432 1
4.6/5 for 14 ratings 47 min.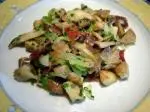 Fresh mushrooms of your choice, cooked just right, thinly sliced spring onions and morsels of cured ham. Straight from the pan to your plate.
68,276 1
5/5 for 1 ratings 49 min.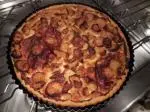 This savoury tart is full of flavour: the thin puff-pastry case is filled with lightly grilled slices of ham and a mixture of cream and Époisses cheese, topped with a layer of oven-cooked shallot confit. This tart can be eated hot, of course, but is also good cold or reheated until just warmed...
6,551
4.6/5 for 14 ratings 2 hours 25 min.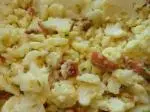 Thin slices of blanched cauliflower, fried strips of cured ham and 3 different types of cheese grated and gently melted to bind everything together.
21,486
5/5 for 19 ratings 50 min.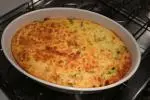 Clafoutis, the traditional French batter puddings, are normally sweet, but here is a savoury version: a layer of mixed vegetables (pre-cooked in this case) in a gratin dish with a cheesy mixture poured over, then baked in the oven. Here I have used diced carrots and courgettes, chopped onion, fried...
7,059
4.7/5 for 12 ratings 1 hour 31 min.