List of recipes using Jerusalem artichoke:
5 recipes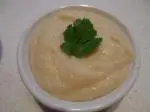 This recipe features a rather unexpected combination that works really well: the distinctive flavour of Jerusalem artichoke with the richness of foie gras. The Jerusalem artichokes are puréed with potatoes. This is serves hot mixed with very cold diced foie gras. The combination of flavours and...
9,331
4.1/5 for 16 ratings 1 hour 10 min.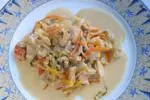 A "marmite normande" is a combination of different seasonal julienne vegetables and a mix of shellfish, rapidly sautéed, then deglazed with cider. The vegetables and shellfish are then simmered together in cream, which intensifies the flavours while it gently reduces and thickens. This recipe is...
1,167 2 hours 13 min.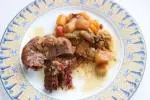 In this recipe a good joint of beef is slow-cooked, surrounded by an assortment of vegetables in small chunks. To concentrate the flavours, the cooking time should be long at a moderate temperature and, most important of all, the dish should be sealed. By the end of cooking, the vegetables will be...
3,999
4.1/5 for 16 ratings 5 hours 28 min.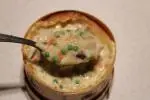 The classic hot box method is a delicious way to serve Mont d'Or cheese. For a more original twist, this recipe adds mixed vegetables. The cheese is baked in the oven as usual, but filled with the diced vegetables and mushrooms.
3,453
3.8/5 for 17 ratings 58 min.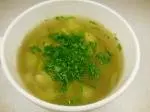 In this "country" (paysanne) style soup, the vegetables are left in small pieces, rather than blended.
10,394 1
4.3/5 for 15 ratings 1 hour 11 min.