Roast in the bag pork with fondant vegetables.
---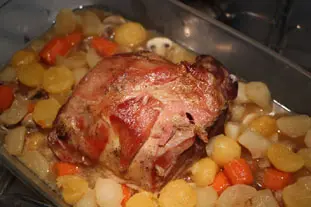 Roasting "in the bag" is a simple but long method. The meat is sealed in a bag and cooked slowly at moderate temperature, keeping it very tender and with an amazing flavour.

Meat cooked like this produces delicious juicies without adding anything else. These can be used to cook vegetables to a melting texture as a perfect accompaniment for the meat.

This recipe might look complicated, but it is really very simple, just a bit long, and the flavour and texture are out of this world.
Last modified on: April 12th 2020
Keywords for this recipe:
Meat
Pork
Slow cooking
Bag
Oven
Vegetables