List of recipes using Tomato paste:
6 recipes

(without meat)

This summer tart has a puff pastry base topped with a rosette of sliced tomatoes and sautéd courgettes. For a more substantial dish, add some diced feta on top before cooking.
50,205
4.2/5 for 20 ratings 2 hours 5 min.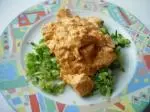 Cooked chopped leek and shallot with cubes of salmon, served in a yogurt, tomato and feta sauce.
49,397
5/5 for 13 ratings 1 hour 1 min.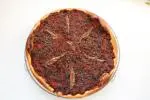 This savoury tart is a traditional speciality around Nice, on France's Cote d'Azur. Originally, pissaladière had much in common with its Italian cousin, the pizza, but made with onions, anchovies and olives, and without tomatoes. This is a slightly different version, more friable (with a...
4,960
3.8/5 for 17 ratings 1 hour 38 min.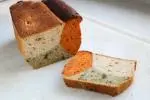 This loaf for "the girls" in three colours is made by putting together three doughs, each with a different flavour: tomato for the red, pesto with olives for the green and onion for the white. The three different doughs fuse as they rise together in the tin before cooking, to produce an unusual...
6,029
4.6/5 for 14 ratings 4 hours 6 min.

This is the sauce to put on pizza bases before the toppings.
86,355
4.3/5 for 10 ratings 1 hour 15 min.

Cocktail sauce is a spicy mayonnaise with cognac, Tabasco and concentrated tomato paste (or purée) added.
63,215
4/5 for 19 ratings 9 min.