How long does it take?
Time required for this recipe:
| Preparation | Start to finish |
| --- | --- |
| 5 min. | 5 min. |
Keeping:
Several days in the fridge, in a closed jar.
---
Step by step recipe
---
Stage 1 - 5 min.
Take the chocolate bar in your hand, protected by a piece of aluminium foil to avoid it melting too quickly, then grate the edge of the bar with a
vegetable peeler
.
Collect the chips on a plate, or a sheet of paper on the work surface.
Remarks
The chocolate chips should be kept dry, in an airtight container.
Nutritional information
Whole recipe
Energetic value
Proteins
Carbohydrates
Fats
265 Kcal or 1,110 Kj
1 gr
32 gr
15 gr
13 %
<1 %
3 %
2 %
Per 100 g
Energetic value
Proteins
Carbohydrates
Fats
530 Kcal or 2,219 Kj
2 gr
63 gr
30 gr
27 %
1 %
6 %
5 %
% are calculated relative to a Recommended Dietary Intake or RDI of 2000 k-calories or 8400 k-joules by day for a woman (change to a man).
Some recipes that use this recipe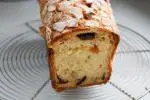 Brioche royale is a very rich brioche, made with candied fruit, toasted hazelnuts and chocolate chips. Just before baking, it is topped with "macaronade": a macaroon-style mixture of ground almonds and sugar with egg white. This creates a crust when baked and gives the brioche its elegant finish.
7,043 16 hours 47 min.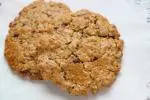 A traditional American recipe for homely biscuits, which can be made in different flavours or with additions (seeds, dried fruit, nuts, chocolate, etc.).
291,993
4/5 for 6 ratings 1 hour 49 min.
See all recipes that use it
Source
Home made.
More recipes?
This recipe uses (among others)
Other recipes you may also like
News list of cooking-ez.com
Sign up to receive the latest recipes (next batch due to be sent on 2020-03-01)
Note: We'll never share your email with anyone else.
Follow this recipe
If you are interested in this recipe, you can "follow" it, by entering your email address here. You will then receive a notification immediately each time the recipe is modified or a new comment is added. Please note that you will need to confirm this following.
Note: We'll never share your email with anyone else.