List of recipes using Shortcrust pastry (pâte brisée):
11 recipes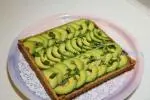 This unusual tart features two star ingredients of South American cuisine: red kidney beans and avocado. The shortcrust pastry case is filled with a red bean and onion purée, then topped with sliced avocado dressed with lime and garnished with fresh coriander.
1,295 1 hour 17 min.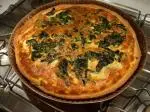 This quiche recipe uses a traditional filling mixture, but adds slices of smoked salmon and blanched spinach.
108,054 1
4/5 for 10 ratings 1 hour 16 min.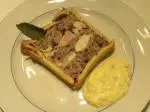 The French classic "Paté en croute" is a terrine of different meats layered and baked in a pie crust. There are many recipes which vary the kind of meat and the seasonings. This is my version with pork, veal and chicken, which is not too difficult, though it does entail quite a lot of work.
51,960 13
4.2/5 for 17 ratings 6 hours 49 min.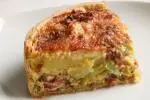 The French make a "tourte" that is smaller and deeper than a normal quiche. This recipe makes the most of this difference: it has plenty of texture and flavour, with bacon, potatoes, leeks, two different cheeses, and an egg and cream filling poured over.
2,552 1 hour 36 min.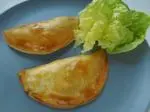 These small pasties ("rissoles" in the original French version) are made with shortcrust pastry, filled with a mixture of cooked meat, onion, parsley, garlic and egg.
12,102
3.8/5 for 12 ratings 1 hour 14 min.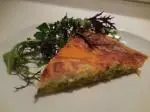 This baked tart has a shortcrust pastry case, filled with a layer of chopped, braised leeks topped with a bechamel sauce with eggs and Mimolette cheese.
9,899
4.1/5 for 16 ratings 1 hour 16 min.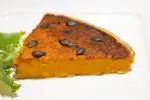 This moist tart has a shortcrust pastry case, filled with a mixture of potimarron purée and Parmesan, bound with egg.
2,494 2 hours 14 min.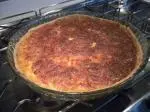 Quiche Lorraine is a recipe that is both simple and delicious. This savoury tart combines bacon and grated cheese with an egg and cream filling in a short-crust pastry case.
19,994
4.9/5 for 11 ratings 1 hour 5 min.

"Rata-tart" is a tart filled with ratatouille and polenta. The layer of polenta in the bottom separates the pastry from the ratatouille and so keeps it crisp.
16,625
4.5/5 for 10 ratings 1 hour 15 min.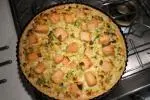 This delicious, creamy tart is full of flavour: big chunks of salmon marinated before cooking and laid on a bed of leek fondue in a shortcrust pastry case. You'll love it!
1,122 48 min.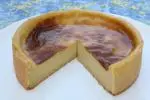 Custard pie is made with a shortcrust pastry base, and filled with an egg vanilla "custard" mix (prepared beforehand). Filling and pastry cook together in the oven. It's a great classic of the French bakery, found in all good shops.
105,066 23
4.4/5 for 17 ratings 1 hour 41 min.