List of recipes using Button or field mushrooms:
9 recipes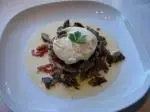 This recipe is not very complicated, but does involve some work: an artichoke heart with a layer of mushroom duxelle, a layer of fried bacon, topped with a poached egg and cream sauce. Everything can be prepared in advance (the day before for example), but the final assembly should be done just...
76,415
5/5 for 1 ratings 2 hours 11 min.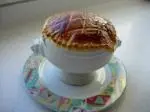 This recipe is made from vegetables cut small and blanched, mixed with pieces of salt-cod and cream, then baked in small soup dishes with a puff pastry lid.
78,383
3.9/5 for 18 ratings 4 hours 35 min.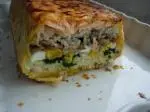 Koulibiak is a traditional russian recipe from, usually served in a flat puff pastry fish shape. Here is an easier version, in a pie dish.
103,679
4.7/5 for 3 ratings 3 hours 19 min.

This is a sort of smoked chicken, cooked in a tomato-coconut sauce, and served with kidney beans and plain rice. It's quite a simple recipe, with ready-made ingredients, but which needs a long cooking time on low heat (one hour).
82,704
5/5 for 11 ratings 2 hours 4 min.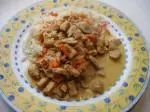 Blanquette is a classic dish of French family cooking, but can also be found in bistros. Veal is cooked slowly, and the sauce is thickened with a mixture of egg yolks and cream. I have set out a rather special way of making it.
80,736
4.4/5 for 10 ratings 2 hours 49 min.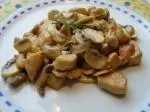 Chicken breasts and mushrooms, cooked separately, then mixed with a tasty cream sauce before serving. It's a dish with a "cuisiné" taste, but which unfortunately is becoming increasingly rare in restaurants.
74,800
3.8/5 for 17 ratings 1 hour 5 min.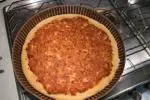 A baker's tart, sometimes called a baker's pizza, is a tart with a base made of bread dough. This version, without tomatoes, combines tuna with mushrooms.
503 1 hour 2 min.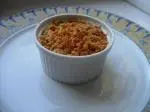 A small ramekin filled with sausage sandwiched between two layers of cooked mushrooms, topped with a savoury crumble made with cancoillotte (a cheese typical of eastern France). All the French region of Franche-comté is in this recipe: Morteau sausage, cancoillotte cheese, and Jura white wine.
86,968 2
4.6/5 for 14 ratings 3 hours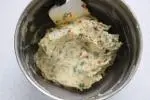 Beurre d'escargot is the typically French flavoured butter added to snails before they go into the oven. In principal, this a simple mixture of butter, chopped parsley and garlic, but here is a more sophisticated gastronomic version with a flavour that simply oozes French savoir-faire.
1,698
4/5 for 1 ratings 51 min.