How long does it take?
| Preparation | Start to finish |
| --- | --- |
| 13 min. | 13 min. |
Preservation: Several days in the fridge, in a closed jar.
---
Step by step recipe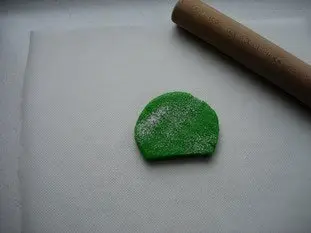 Place the flattened disc of marzipan on a sheet of
cooking parchment
, and
dust
with icing sugar.
Stage 2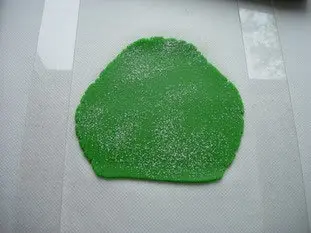 Then start to roll with a rolling pin as if rolling out
pastry for a tart
.
If the marzipan sticks to the rolling pin, dust with more icing sugar.
Stage 3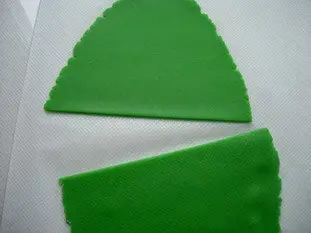 If you are using a large piece of marzipan, try cutting it in two and roll out half at a time; you'll find it much easier.
Stage 4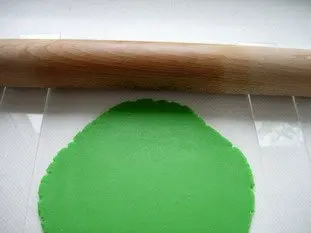 The best trick, as shown in the photo, is to put guides of the required thickness on either side (here 2 pieces of perspex 2mm thick). This ensures even rolling and you can be sure of having the right thickness.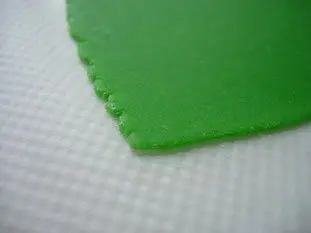 Eventually you should have a fine "sheet" of marzipan, thin and as even as possible.
Unstick it from the paper, turn it over and put it back in place. This will help when you are cutting out.
Stage 6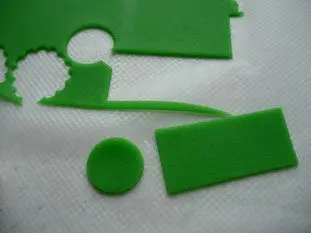 You can now cut anything you wish using a knife...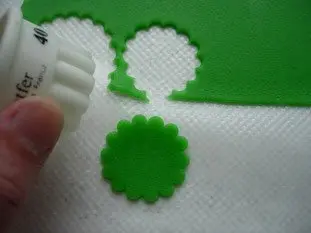 ...or better still,
cutters
in various shapes.
Stage 8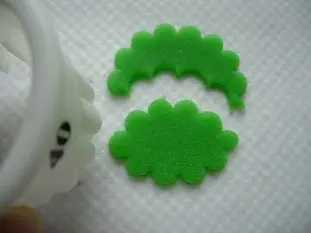 To make leaves, for example, first cut a circle using a fluted cutter, then cut the circle in two.
Stage 9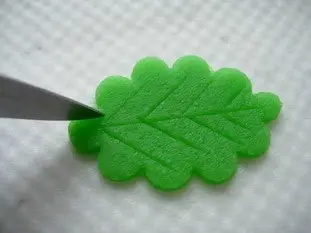 Draw the veins of the leaf with the point of a knife.
Stage 10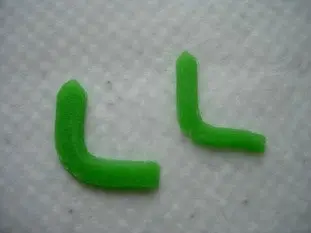 You can also join pieces together easily...
Stage 11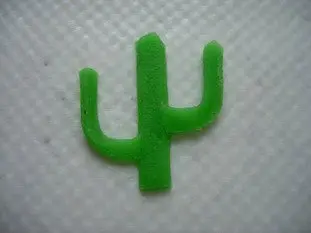 ... by overlapping them and pressing gently to stick them together.
Stage 12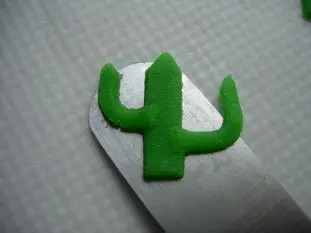 A tip: move your creations with a
palette-knife
, or if not, with a fork, to avoid breaking them at the last minute.
Remarks
Marzipan decorations dry out quite quickly if you don't use them straight away.
Wrap them in plastic film
and keep in the fridge.
Nutritional information
% are calculated relative to a Recommended Dietary Intake or RDI of 2000 k-calories by day for a woman (change to a man).
Source: Home made.
More recipes?
This recipe use (among others)
| | |
| --- | --- |
| | Marzipan (almond paste): You can get more informations, or check-out other recipes which use it, for example: Agen prune cake, Piped petits-fours, Little Christmas biscuits, Fraisier (French strawberry cake), Provençal colombier for Pentecost, ... All |
| | Icing sugar: You can get more informations, or check-out other recipes which use it, for example: Almond cream or frangipane, Crust for tea, Pistachio madeleines, X-Files cookies, Little Christmas biscuits, ... All |
News list of cooking-ez.com
Sign up to receive the latest recipes (next batch due to be sent on 2019-03-24)
Note: We'll never share your email with anyone else.
Follow this recipe
If you are interested in this recipe, you can "follow" it, by entering your email address here. You will then receive a notification immediately each time the recipe is modified or a new comment is added. Please note that you will need to confirm this following.
Note: We'll never share your email with anyone else.