For
6 people

, you will need:
Change for:
Measures:
How long does it take?
Fulfillment
| Preparation | Cooking | Start to finish |
| --- | --- | --- |
| 37 min. | 30 min. | 1 hour 7 min. |
Preservation:
Several days in the fridge, covered by a plastic film.
At what time?
When will I finish if I start the recipe at a certain time?
When should I start for the recipe to be ready at a certain time?
Work this out...
---
Step by step recipe
---
---
Stage 2 - 25 min.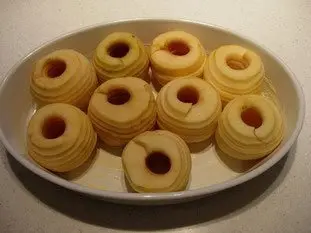 Choose 12 apples that are a bit acidic and sharp like "reinettes",
Peel them
and discard core.
Arrange close together in the dish.
---
Stage 3 - 3 min.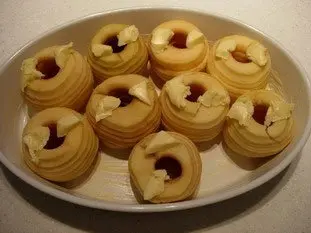 Put 2 small pieces of butter on each apple.
---
Stage 4 - 3 min.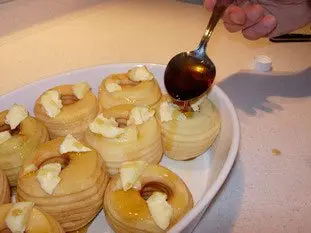 Pour one or two tablespoons of maple syrup over each apple .
---
Stage 5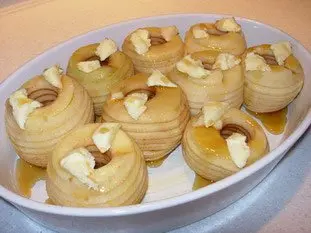 If you like it (like me), you can put a little more maple syrup directly in the bottom of the dish too, it's impossible to put too much maple syrup...
---
Stage 6 - 3 min.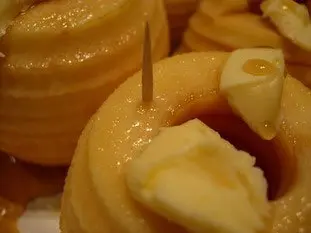 If you have used an apple-peeler, you can push a toothpick through each apple to hold it together.

Put the dish in the oven.
---
Stage 7 - 30 min.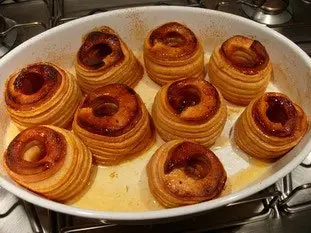 Let the apples cook until they are soft (about 30 minutes).
If possible during cooking pour the juice from the bottom of the plate over the apples with a spoon.
Remove toothpicks if used and enjoy!
You can serve this dessert with a tablespoon of "
crème chantilly
" (whipped cream) - pure delight!
Remarks
If your apples are a bit too sweet, you can add a dash of lemon juice before putting in the oven.
Nutritional information
% are calculated relative to a Recommended Dietary Intake or RDI of 2000 k-calories by day for a woman (change to a man).
How much will it cost?
For 6 people : 6.75 €
Per person : 1.13 €
Note : These prices are only approximate
Source
Home made, and this recipe is warmly dedicated to Eric and Pascale who inspired it.
More recipes?
This recipe use (among others)
| | |
| --- | --- |
| | Butter: You can get more informations, or check-out other recipes which use it, for example: Pan-baked hash brown (Hash-brown casserole), Pogne de Romans, Fillet of pollack cooked in two stages, Yeast-based flaky dough (for croissants), Chocolate cake, ... All |
| | Apple: You can check-out other recipes which use it, like for example: Warm apple feuillantines, Windfall apple jelly, Quince and apple compote, Apple Tatin Terrine, Rice pudding with fruit and nuts, ... All |
| | Maple syrup: You can check-out other recipes which use it, like for example: Simple maple-syrup tart, Belle-helene in a glass, Pain perdu, Moist cereal bars, ... All |
News list of cooking-ez.com
Sign up to receive the latest recipes (next batch due to be sent on 2019-06-23)
Note: We'll never share your email with anyone else.
Follow this recipe
If you are interested in this recipe, you can "follow" it, by entering your email address here. You will then receive a notification immediately each time the recipe is modified or a new comment is added. Please note that you will need to confirm this following.

Note: We'll never share your email with anyone else.