List of recipes using Cream cheese:
11 recipes

In this colourful terrine, layers of avocado alternate with smoked salmon and diced tomato in balsamic vinegar.
51,097
5/5 for 1 ratings 4 hours 7 min.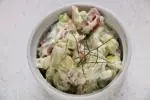 Diced avocado with morsels of gravlax salmon and cream cheese with herbs for a simple yet delicious starter.
4,508
4.5/5 for 11 ratings 18 min.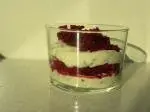 Diced beetroot, marinated in lemon juice and walnut oil, between layers of cream cheese with herbs.
24,325
5/5 for 13 ratings 2 hours 46 min.

Little verrines filled with a mixture of cottage cheese (fromage blanc), cream and coriander with diced radish, gherkin and shallot.
34,112 2
4.8/5 for 12 ratings 41 min.

It is quite easy to make your own garlic and herb cream cheese, rather like the well-know Boursin. It's fresh, much better, of course, and delicious, especially with a piece of toast.
39,120
3.9/5 for 12 ratings 35 min.

Tomatoes marinated in olive oil and lime, then arranged in alternating layers with cream cheese: one layer with herbs and the other with walnuts.
41,928
5/5 for 1 ratings 6 hours 12 min.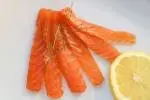 Gravlax is a Nordic speciality and consists of boned salmon dry-cured overnight in salt and sugar. The cured salmon can be eaten like smoked salmon, just with a trickle of lemon juice, or with a light sauce of cream cheese and herbs.
5,305
5/5 for 1 ratings 12 hours 21 min.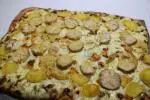 A baker's tart is made with bread dough. It is sometimes called a baker's pizza, but this version has no tomatoes. It is topped with potatoes and slices of herb-poached chicken on a bed of cream and cheese with more herbs.
694 1 hour 23 min.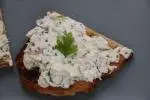 Lightly toasted bread topped with a mixture of cream cheese, chopped spring onions, sliced radishes and fresh herbs.
4,385
4/5 for 20 ratings 21 min.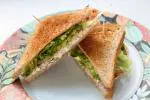 This is a rapid club sandwich recipe that combines the taste of the sea (sardines in oil) with the terrestrial flavour of fried bacon. The two are accompanied by a layer of cream cheese with herbs.
2,806
4.3/5 for 12 ratings 24 min.

Quick to make, delicious as an aperitif.
52,400
5/5 for 2 ratings 17 min.