List of recipes using Pasta:
9 recipes

(alcohol-free)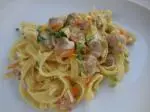 In this recipe, the cockles and pasta are prepared separately, then mixed with the sauce at the last minute. The cockles are first cooked quickly, then shelled carefully (I find it unpleasant to have to do this on the plate) and the cooking juices are used to prepare a cream sauce. The tagliatelle...
11,548 1
4.7/5 for 3 ratings 2 hours 16 min.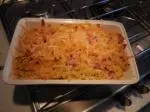 Here's a really simple recipe that children love. Just pasta, ham, a little cream and cheese on top.
8,533
5/5 for 19 ratings 42 min.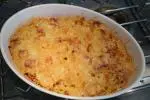 A good way to use up leftover pasta, or cook some specially for this gratin with fried ham and two cheeses: diced mozzarella for melting texture and grated Comté for a nicely browned top.
1,948 51 min.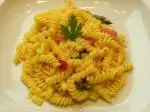 In this recipe, the pasta is cooked separately, then mixed with chunks of green asparagus, ribbons of smoked ham and a cream sauce with nutmeg.
21,472
3.9/5 for 11 ratings 1 hour 8 min.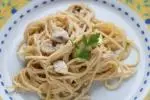 Your choice of pasta (spaghetti, penne or whatever) in a creamy sauce with mushrooms and shallots.
5,989
4.3/5 for 15 ratings 37 min.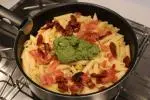 In this recipe, the pasta (whatever kind you prefer) is served with shreds of fried ham and chopped preserved tomatoes as well as a good dollop of pesto.
7,036
3.8/5 for 19 ratings 23 min.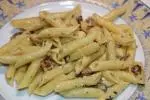 Sautéed mushrooms in a cream sauce with penne - a simple, delicious recipe.
7,008
5/5 for 1 ratings 37 min.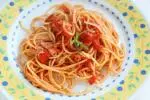 Here's a quick and simple solution when faced with the age-old question late on Sunday afternoon: "What are we going to eat tonight?".
3,300
4.8/5 for 10 ratings 28 min.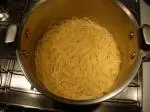 Here is some advice for pasta that's properly cooked and doesn't stick.
57,486
4.8/5 for 12 ratings 22 min.