List of recipes using Purple artichoke:
8 recipes

(gluten free)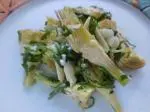 "Poivrade" artichokes are the small purple ones, often eaten raw in salads. Choose the smallest ones, as they are the tenderest and have practically no fibrous "choke". For this recipe, they are combined as a salad with herbs, spring onion and Parmesan shavings in an olive oil and lemon dressing.
11,605
5/5 for 13 ratings 23 min.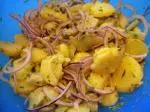 This salad combines red onion, purple artichokes cut small and slices of warm potato, dressed with a good vinaigrette.
22,119
3.8/5 for 17 ratings 54 min.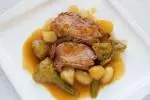 Pork goes particularly well with sage (true for white meats in general), but in this recipe, we'll bring out these flavours to the full by slow-cooking in a bag. The pork roasting joint is simply salted and peppered before being put in the bag and cooked for hours at low temperature. The delicious...
4,863
4.6/5 for 19 ratings 3 hours 56 min.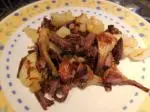 This dish combines artichokes, sautéed with shallot in olive oil, with cooked beef and potatoes (simply heated through).
11,282
4.1/5 for 16 ratings 46 min.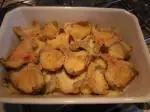 This is a very simple recipe: just potatoes, purple artichokes, a sprinkling of Parmesan and into the oven it goes...
10,470
4.1/5 for 16 ratings 42 min.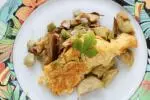 This French "broken" omelette is not neatly folded like a classic omelette. There is more filling than egg: mushrooms and artichokes here, pan-fried with spring onions. It can be served flat, like a Spanish omelette, but I prefer the more original broken look.
7,363
4.1/5 for 16 ratings 54 min.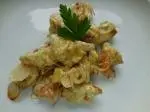 In this recipe, small purple artichokes are trimmed and braised (i.e. simmered gently in a small quantity of liquid) in white wine.
11,692
4.3/5 for 15 ratings 40 min.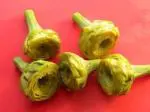 The small purple artichokes, which are more tender than the larger green ones, are almost entirely edible. But they need to be prepared in a particular way. Here is how to do this fairly easily.
52,825 2
4/5 for 1 ratings 19 min.