Roast pork with sage, cooked in a bag.
---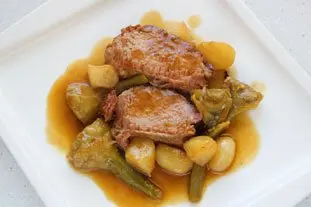 Pork goes particularly well with sage (true for white meats in general), but in this recipe, we'll bring out these flavours to the full by slow-cooking in a bag.

The pork roasting joint is simply salted and peppered before being put in the bag and cooked for hours at low temperature.

The delicious cooking juices produced is used for braising the vegetables to serve with the roast: turnips and purple artichokes.

In this recipe, everything is done gently and at an unhurried pace: this is real slow food at its delicious best.
Last modified on: December 30th 2019
Keywords for this recipe:
Pork
Roast
Cooking in bag
Sage
Purple artichoke
Turnip
Slow cooking