List of recipes using Red onion:
10 recipes

(gluten free)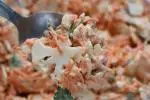 Coleslaw with a French twist from Brittany, using finely sliced raw cauliflower instead of cabbage.
1,286 17 min.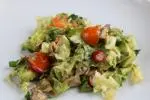 A delicious salad of radishes, tomato, avocado and chicken.
7,328
5/5 for 19 ratings 32 min.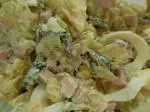 In this version of Piedmont salad, the usual tomato has been replaced by raw courgette.
13,402
3.9/5 for 19 ratings 33 min.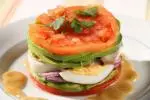 A stack ("pressé" in French) can be made of sliced vegetables or other ingredients piled up and pressed in a ring mould to keep them in shape. The ring is removed before serving. This stack consists of tomato, avocado, red onion, hard-boiled egg and anchovy fillets. Serve surrounded with with a...
7,928
5/5 for 13 ratings 30 min.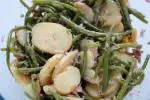 This rustic traditional dish (literally "peasant salad") combines cold sliced potatoes and green beans (cooked separately) with chopped red onion and fried lardons. The salad is finished with a vinaigrette dressing and parsley, or your choice of herbs.
890 17 min.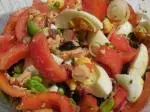 Salade Niçoise is a typical Mediterranean dish that originated around the French city of Nice. As there is no real "official" recipe, everyone has their own personal version. This is mine.
14,581
4.9/5 for 20 ratings 40 min.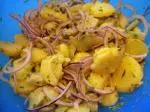 This salad combines red onion, purple artichokes cut small and slices of warm potato, dressed with a good vinaigrette.
22,177
3.8/5 for 17 ratings 54 min.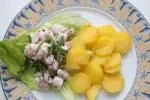 Ericka's ceviche is a Peruvian version of the classic South American dish. The diced fish is cured (effectively "cooked") in lime juice. This dish is fairly simple to make, but delicous and full of fresh flavours.
2,015 1 hour 9 min.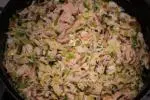 Rice cooked "à la grecque" (Greek-style) is enlivened with sautéed leeks and mushrooms, cream and feta, to which the cooked rice is added at the end. This is a hearty dish, usually served in its cooking pot in the centre of the table, so everyone can help themselves.
512 48 min.

This is a quick tomato sauce, just the thing for dipping crisps (chips, if you are American), or nachos. It is very similar to the sauce served with aperitif snacks in Tex-Mex restaurants.
23,338
4.1/5 for 16 ratings 42 min.