List of recipes using Peeled tomatoes:
5 recipes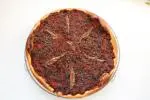 This savoury tart is a traditional speciality around Nice, on France's Cote d'Azur. Originally, pissaladière had much in common with its Italian cousin, the pizza, but made with onions, anchovies and olives, and without tomatoes. This is a slightly different version, more friable (with a...
3,671
3.8/5 for 17 ratings 1 hour 38 min.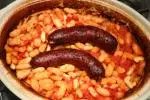 What could be more basic than sausages and beans? This is a rustic French version using dried white haricot beans (or "mogettes") that are first boiled fast, then left to cook slowly with tomatoes and smoked sausages. The long cooking allows the smoky flavour of the sausages to gradually spread down...
3,770
4.6/5 for 14 ratings 1 hour 4 min.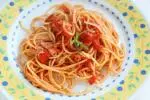 Here's a quick and simple solution when faced with the age-old question late on Sunday afternoon: "What are we going to eat tonight?".
3,123
4.8/5 for 10 ratings 28 min.

This is the sauce to put on pizza bases before the toppings.
84,718
4.3/5 for 10 ratings 1 hour 15 min.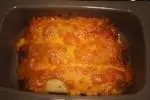 Enchiladas are tortillas (cornmeal pancakes), filled with a pre-cooked filling, then topped with grated cheese and browned in the oven.
967 1 hour 41 min.