List of recipes using Chicken breast:
11 recipes

(lactose free)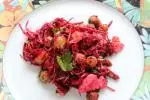 A raw beetroot salad, enriched with toasted almonds, diced fried chicken and potatoes. As beetroot tends to colour everything it touches, you can be sure that your diced chicken will be an unusual but attractive bright pink - children love this!
6,868
4.2/5 for 18 ratings 39 min.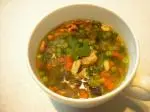 This delicious soup is a flavoursome mix of herbs, mushrooms, soya noodles and small diced vegetables briefly cooked in vegetable stock. It takes a while to make and there are lots of ingredients, but the result is worth it.
28,884 2
4.5/5 for 15 ratings 1 hour 15 min.

This salad is a mixture of fresh, crunchy ingredients (spring onions, radishes and lettuce) with ribbons of pan-fried chicken, added while still warm.
25,909
4.2/5 for 11 ratings 29 min.

Chicken breasts are slowly cooked in a frying pan, then the sauce is made in the same pan with dry white wine, chicken stock and tarragon, and served with sauté (pan-fried) potatoes.
73,910 1
5/5 for 2 ratings 1 hour 39 min.

Only "chinese style", not a true chinese recipe.
74,476
4/5 for 1 ratings 1 hour 38 min.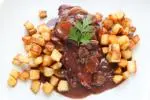 Coq au vin is one of those iconic classics of French cuisine, though these days it is more likely to be made with chicken. The poultry is marinated in red wine, fried, then flambéed in cognac before being simmered slowly in the wine marinade. It has much in common with that other classic, boeuf...
8,986
4.2/5 for 11 ratings 14 hours 44 min.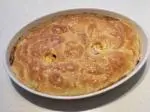 Apart from the obvious chicken, this pie's puff pastry "lid" also conceals mushrooms, bacon, hard-boiled eggs and leeks.
25,486
4.3/5 for 12 ratings 2 hours 29 min.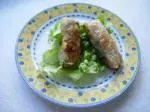 Nems are probably the best known Far Eastern dish in France. These small crispy rolls can be made in different flavours: chicken, crab, pork, etc. Making your own is not very complicated, the only difficulty is in the rolling stage. You will find in this recipe full details on how to successfully...
109,835
3.8/5 for 11 ratings 2 hours 21 min.

Chorba is a spicy meat and vegetable soup, typical of the Maghreb. This is my own personal version.
33,099
5/5 for 2 ratings 2 hours 8 min.

Paella is a traditional Spanish dish made with round rice, associated mainly with the Valencia region. The name comes from the large two-handled pan in which it is traditionally prepared. This is an adapted version with a mix of meat, vegetables and shellfish.
80,964
4.1/5 for 16 ratings 2 hours 58 min.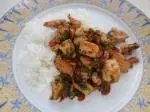 This Thai-inspired recipe combines diced chicken with cashew nuts, spring onions, herbs and a lime-soy sauce.
10,278
5/5 for 13 ratings 24 min.