List of recipes using Pistachios:
12 recipes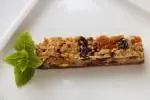 These have a chocolate sweetcrust pastry base, topped with dried fruit, toasted nuts and seeds, bound with a brown-sugar and butter mixture, then gently baked. Once the flapjack-like cake has cooled, it can be cut into bars.
1,734 1 hour 18 min.

A very thin disc of chocolate, topped with toasted nuts and candied grapefruit peel.
81,381
4/5 for 19 ratings 2 hours 22 min.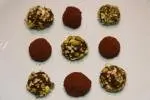 Chocolate truffles: those dreamy, creamy chocolatey treats, rolled in cocoa powder or a mix of chopped dry-roasted pistachios and almonds.
7,300
5/5 for 3 ratings 2 hours 54 min.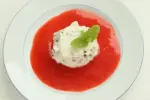 Impress your guests with this delightful dessert, a smooth mixture of meringue and dried fruit, which can easily be prepared several days beforehand.
80,269
4.5/5 for 2 ratings 1 hour 28 min.

Whether bars or rounds, this recipe produces delicous small cereal cakes.
132,256
4.9/5 for 20 ratings 1 hour 5 min.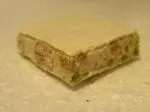 Nougat is a sweet made with honey and almonds that has changed very little since ancient times. The nougat we know today is the Montelimar variety, in which egg whites are added to the basic recipe for a lighter texture. Here is a simplified version.
23,473 1
5/5 for 1 ratings 1 hour 41 min.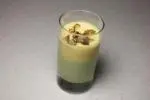 In this dessert, the pistachio panna cotta is teamed with real vanilla custard and topped with a few caramelised pistachios.
3,254 2
5/5 for 1 ratings 3 hours 12 min.

These melt-in-the-mouth biscuits are "double pistachio", as they contain both pistachio paste and toasted chopped pistachios.
29,858
5/5 for 3 ratings 2 hours 58 min.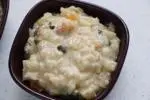 This is cooked like a normal rice pudding, but with fruit and nuts added halfway through: toasted almonds and pistachios, sautéed diced apple and strips of dried apricot. These added flavours and textures make an already creamy rice pudding even more delicious.
2,918
4.6/5 for 14 ratings 1 hour 5 min.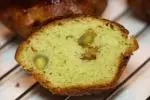 These mini brioches are made with dried apricots and have double pistachio flavour: in the dough itself, which is tinged green, and with dry-roasted pistachios added whole.
6,634
4.1/5 for 20 ratings 18 min.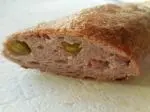 Saucipain (or sausage bread) is a kind of savoury baguette. The dough contains small dice of dry-cured sausage or salami and is mixed with red wine instead of water. Served sliced in rounds, it makes a typically French aperitif snack.
9,629
3.8/5 for 17 ratings 4 hours 26 min.

Pistachio paste has a similar texture to almond paste, but the similarity ends there, as its flavour and colour are quite characteristic.
93,476 13
3.8/5 for 6 ratings 48 min.