List of recipes using Leavened bread:
10 recipes

(lactose free)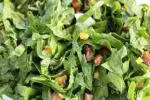 It might not be obvious, but spinach can be eaten raw, as in this salad, where the leaves are shredded and mixed with croutons, lardons (bacon bits) and hard-boiled eggs.
550 42 min.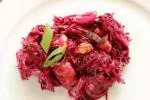 This pink — almost hot pink — salad gets its colour from the raw beetroot, teamed here with toasted cashew nuts and fried croutons.
1,681
5/5 for 1 ratings 32 min.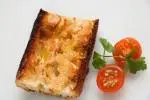 This tomato-flavoured bread, the famous "pan con tomate" of our Spanish friends, is ridiculously simple, but such a treat! It only takes a few minutes to prepare and makes a delicious aperitif snack.
5,536
4/5 for 1 ratings 6 min.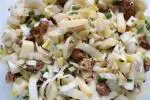 This starts out as a classic salad of shredded endives, but is pepped up with sliced spring onions, fried croutons and chunks of cheese.
567 31 min.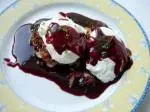 Eggs meurette or "œufs à la bourguignonne" is a great classic of French cooking, and of Burgundy in particular. It consists of poached eggs on a bed of fried onions and bacon, served on a slice of fried bread. This is topped with a tasty reduced red wine sauce.
57,226 1
4.1/5 for 16 ratings 1 hour 29 min.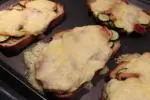 These toasted slices are topped with sautéed vegetables (courgette and mushrooms), covered with a slice of smoked ham and then slivers of cheese. Once the cheese is melted and browned in the oven, the slices should be served piping hot.
2,516
4.7/5 for 19 ratings 58 min.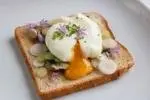 This is a French twist on that store-cupboard basic, sardines on toast: sardine fillets in oil and sliced spring onion, topped with a poached egg.
4,655
4.7/5 for 12 ratings 15 min.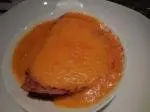 This is a French version (as served in brasseries in northern France) of the traditional Welsh rarebit. It contains boiled ham as well as the usual toasted bread and Cheddar cheese melted in beer.
15,620
5/5 for 1 ratings 33 min.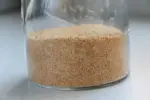 The crispy crust on many fried (or baked) foods comes from a breadcrumb coating. You can buy this, of course, but it's easy and much better to make your own at home. For one thing, you will know excatly what's in it – just bread – which is not the case for the commercial product. This is also a...
1,292
1/5 for 1 ratings 1 hour 7 min.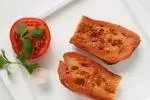 "Pan con tomate" (tomato toast) is a staple of Spanish cuisine, where it is often served as an aperitif snack. It is really simple to make and delicious: the bread is rubbed with half a tomato to soak it with the juice. After that, all it needs is seasoning and a drizzle of olive oil. This is a...
2,987
4.8/5 for 12 ratings 7 min.