List of recipes using Five hours poultry:
10 recipes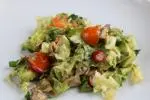 A delicious salad of radishes, tomato, avocado and chicken.
6,362
5/5 for 19 ratings 32 min.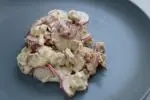 This salad combines the crunch of finely sliced radishes with tender cubes of chicken. The tang which lifts the flavour comes from fresh herbs and the dressing of lemon mayonnaise.
2,711
5/5 for 13 ratings 21 min.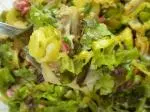 This salad combines ratte potatoes, lettuce, radishes and chicken with a herb dressing.
19,409
3.9/5 for 18 ratings 1 hour 3 min.

This curry is quick to make if you have left over cooked chicken, and is always delicious.
44,966
5/5 for 13 ratings 33 min.

Fresh white haricot beans and leftover chicken cooked with stewed tomatoes, a sprig of parsley and it's ready.
68,986
4.1/5 for 19 ratings 1 hour 55 min.

Finely sliced leeks are cooked with a shallot, to which is added leftover chicken with a little cream and parmesan. This mixture is rolled up in filo pastry, and cooked in the oven.
69,853
5/5 for 1 ratings 49 min.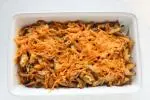 This is a very simple gratin, mainly using leftovers (chicken and rice), ideal for a Sunday night supper.
2,646
3.8/5 for 19 ratings 52 min.

We could almost say a "Parmentier" of potimarron: a layer of left over cooked chicken, covered with potimarron purée and cheese, put to brown in the oven.
74,816 2
4/5 for 2 ratings 1 hour 35 min.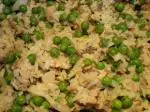 This is a very simple recipe that can made almost entirely with leftovers: chicken, rice and peas.
19,606
4.2/5 for 18 ratings 27 min.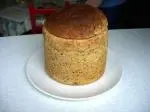 This recipe is for a large surprise bread so you can make six layers (48 small sandwiches if you divide each layer in 8), with three different flavours: smoked salmon/lime, smoked ham/butter, mayonnaise/chicken.
75,317 1
4.4/5 for 7 ratings 6 hours 24 min.