List of recipes using Red onion:
8 recipes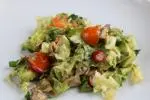 A delicious salad of radishes, tomato, avocado and chicken.
6,321
5/5 for 19 ratings 32 min.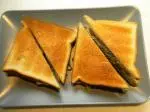 In this club sandwich: chicken marinated in lime, fried bacon, lettuce, red onion and mayonnaise.
27,807
4.1/5 for 16 ratings 1 hour 42 min.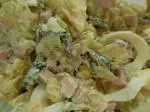 In this version of Piedmont salad, the usual tomato has been replaced by raw courgette.
11,209
3.9/5 for 19 ratings 33 min.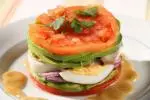 A stack ("pressé" in French) can be made of sliced vegetables or other ingredients piled up and pressed in a ring mould to keep them in shape. The ring is removed before serving. This stack consists of tomato, avocado, red onion, hard-boiled egg and anchovy fillets. Serve surrounded with with a...
6,207
5/5 for 13 ratings 30 min.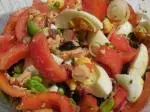 Salade Niçoise is a typical Mediterranean dish that originated around the French city of Nice. As there is no real "official" recipe, everyone has their own personal version. This is mine.
12,380
4.9/5 for 20 ratings 40 min.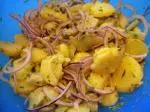 This salad combines red onion, purple artichokes cut small and slices of warm potato, dressed with a good vinaigrette.
20,230
3.8/5 for 17 ratings 54 min.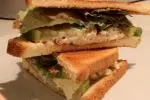 This is a sandwich with a difference: its Breton character comes not only from the crab in mayonnaise, but also from pieces of "galette" (buckwheat pancake), fried in butter.
7,016
3.8/5 for 17 ratings 22 min.

This is a quick tomato sauce, just the thing for dipping crisps (chips, if you are American), or nachos. It is very similar to the sauce served with aperitif snacks in Tex-Mex restaurants.
21,485
4.1/5 for 16 ratings 42 min.