List of recipes using Breadcrumbs:
10 recipes

(without meat)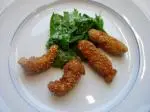 Scampi, coated with a sesame crust, fried quickly, and served with a herb salad.
96,229
5/5 for 1 ratings 33 min.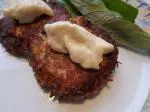 These crab cakes are a mixture of crab meat - of course - with onion, parsley, breadcrumbs, egg and mayonnaise. The cakes are made fairly thick and shallow fried in a pan, but they can also be deep fried.
11,788
4.7/5 for 18 ratings 1 hour 3 min.

Small pieces of fish, dipped in beated egg then in breadcrumbs, and fried. Preferably serve with something with slightly acidic like herb salad, or Béarnaise sauce.
68,506
5/5 for 13 ratings 49 min.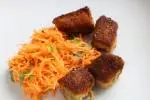 In this recipe chunky cubes of fresh tuna are marinated, then double-dipped to coat them before cooking: first in curry spices, then breadcrumbs. The cubes of fish are pan-fried to a crispy coating on the outside but stay tender in the middle.
9,233
4.9/5 for 14 ratings 2 hours 40 min.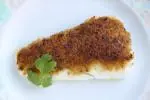 Fish "à la Bordelaise" is a fillet topped with a crust of breadcrumbs, herbs and onions cooked in white wine, then oven-baked until golden brown. It is a classic frozen family meal that many French children have grown up with, but here is a home-made version that is far better.
6,139 1 hour 7 min.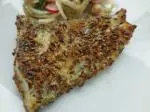 Fish fillets coated with a mixture of breadcrumbs and seeds, then fried.
17,467
4.2/5 for 19 ratings 30 min.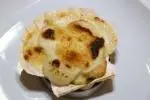 Scallops rapidly pan-fried, then arranged in shells on a bed of finely chopped leeks, topped with a bechamel sauce and browned in the oven.
2,928 1 hour 7 min.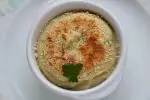 This is an artichoke recipe with a difference: we'll be using both heart and leaves, first steamed, then lightly sautéed before being blended with cancoillotte cheese to make a creamy purée. This is then browned in individual ramekins.
259 49 min.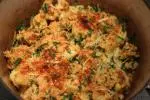 This delicious twist on cauliflower cheese is cooked in 3 stages: the cauliflower is steamed on its own before being fried with the spices. It is then topped with cheese and breadcrumbs, and browned in the oven.
1,247 1 hour 1 min.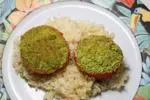 This is a great classic dish of Provençal cuisine: tomato halves topped with a kind of stuffing mixture of breadcrumbs, parsley and garlic. In this version, they are served on a bed of white rice.
4,296
4.3/5 for 15 ratings 1 hour 9 min.