List of recipes using Brussels sprouts:
8 recipes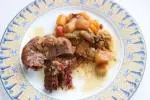 In this recipe a good joint of beef is slow-cooked, surrounded by an assortment of vegetables in small chunks. To concentrate the flavours, the cooking time should be long at a moderate temperature and, most important of all, the dish should be sealed. By the end of cooking, the vegetables will be...
5,156
4.1/5 for 16 ratings 5 hours 28 min.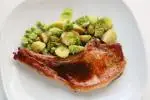 In this recipe, the pork chops are pan-fried and served with a sauce of the reduced pan juices and white-wine, and two different brassicas: Brussels sprouts and romanesco.
5,728
4.3/5 for 12 ratings 46 min.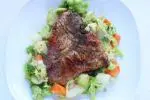 The veal chop in this recipe is cooked in two stages: flash fried first to brown it all over, then gently roasted in the oven. The chop is served with an assortment of vegetables, first lightly boiled, then reheated in the "jus" (cooking juices).
7,268
5/5 for 1 ratings 2 hours 27 min.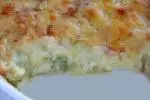 This is a novel twist on the well known cottage or shepherd's pie idea (minced meat topped with mashed potato). Why not try this "Brussels" pie with a mixture of mashed potato and Brussels sprouts on top of chopped chicken?
662 1 hour 24 min.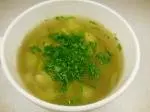 In this "country" (paysanne) style soup, the vegetables are left in small pieces, rather than blended.
11,492 1
4.3/5 for 15 ratings 1 hour 11 min.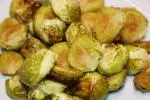 Here is an original way to pep up Brussels sprouts: roasted in the oven. Cooked this way, they will be lightly crisped on the outside and melting in the middle.
8,122
4/5 for 1 ratings 53 min.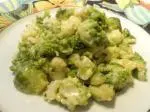 Four kinds of brassicas (Brussels sprouts, cauliflower, romanesco and broccoli), blanched separately, then combined to finish with cream and chopped parsley.
33,759
4.6/5 for 14 ratings 2 hours 41 min.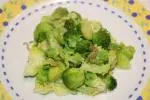 A recipe full of gorgeous greens: broccoli, romanesco, Brussels sprouts and cabbage. The vegetables are cooked separately in stock before being lightly sautéed with shallot. This is a simple dish, though it takes a while to prepare, and is delicious, light and healthy.
6,348
4.1/5 for 18 ratings 37 min.