Baked Alaska
---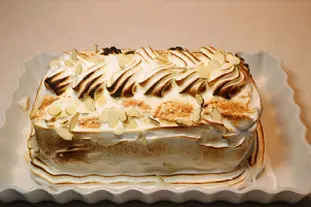 The name may be odd, but Baked Alaska is an elegant dessert. The core of this version is a "sandwich" of vanilla ice cream and blackcurrant sorbet between 2 layers of sponge soaked in rum-flavoured syrup.

This is then covered in a layer of meringue and put in a very hot oven for just a few minutes to brown the outside.

The magical and delicious effect comes from the contrast between the hot meringue and the cold ice cream and cake inside.

It is a little tricky to get right, but the main elements can be prepared several days in advance.
Last modified on: November 12th 2017
Keywords for this recipe:
Meringue
Vanilla ice-cream
Biscuit
Rhum syrup
Flambéed