For
6 people

, you will need:
1

1 litre red wine

2

3 oranges

3

1 grapefruit

4

1 sachet Vanilla sugar

5

5 tablespoons caster sugar

6

1 pinch cinnamon (optional)
Total weight: 2,315 grams
Change for:
Measures:
How long does it take?
Fulfillment
| Preparation | Cooking | Start to finish |
| --- | --- | --- |
| 29 min. | 1 hour 3 min. | 1 hour 32 min. |
Preservation:
Several days in the fridge, in a closed jar.
At what time?
When will I finish if I start the recipe at a certain time?
When should I start for the recipe to be ready at a certain time?
Work this out...
---
Step by step recipe
---
Stage 1 - 10 min.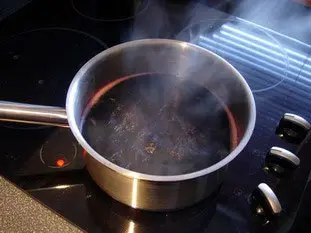 I advise you to use a very basic wine.

Pour 1 litre red wine into a pan and bring to the boil on medium heat.
---
Stage 2 - 5 min.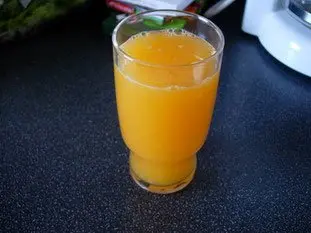 Meanwhile, cut fruit in half, set half an orange and a half grapefruit aside, and squeeze the others.
---
Stage 3 - 5 min.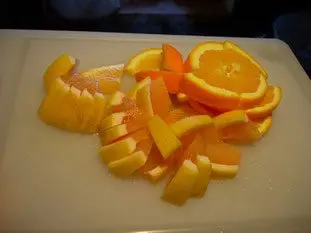 Scrub the skin of the other 2 half fruit thoroughly, and cut into small pieces, with both peel and flesh on each as far as possible.
---
Stage 4 - 3 min.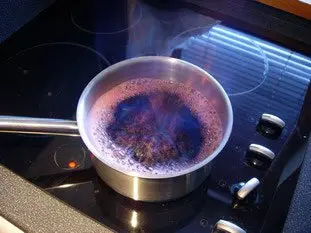 When wine boils, set light to the alcohol vapours (a pretty blue flame) by holing a flame above the pan.

Leave all alcohol to burn off, which will take about 2-3 minutes.
---
Stage 5 - 2 min.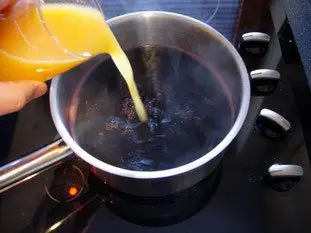 Pour fruit juice into wine.
---
Stage 6 - 2 min.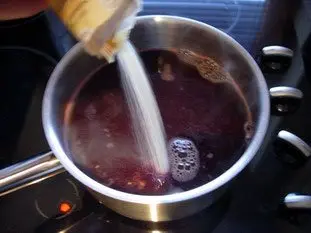 ---
Stage 7 - 1 hour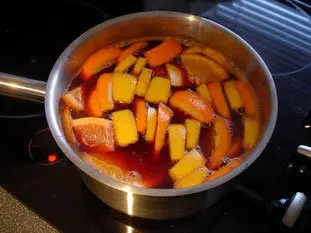 Add pieces of fruit, turn down heat to minimum and leave to simmer until drinking time (but at least one hour).
---
Stage 8 - 5 min.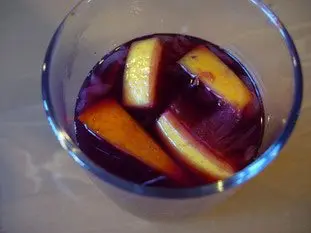 Serve in glasses or mugs, a generous helping of wine and a few fruits.
Remarks
Many people think that the most important thing in mulled wine is the spices, but for me it's more the wine-fruit mix which gives the delicious hint of acidity. Then you can add whatever you want: vanilla, cinnamon, aniseed, pepper,...

For a quick mulled wine, forget: vanilla sugar, grapefruit and cinnamon.

For a glittering presentation, serve in glasses (not mugs) with the edges dipped in white egg then caster sugar.
Nutritional information
% are calculated relative to a Recommended Dietary Intake or RDI of 2000 k-calories by day for a woman (change to a man).
How much will it cost?
For 6 people : 9.37 €
Per person : 1.56 €
Note : These prices are only approximate
Source
Home made, and this recipe is dedicated to David who will certainly bemoan the short measure of cinnamon.
More recipes?
This recipe use (among others)
| | |
| --- | --- |
| | Red wine: You can check-out other recipes which use it, like for example: Roscoff loaf, How to slow cook meat, Saucipain, Aperitif rolls, Two-stage beef chuck , ... All |
| | Caster sugar: You can get more informations, or check-out other recipes which use it, for example: Gravlax, Frozen cottage cheese with strawberries, Pannacotta and blackcurrant crumble, Rice pudding with fruit and nuts, Lime meringue tart, ... All |
| | Orange: You can check-out other recipes which use it, like for example: Little caramelized peach tarts, Nonettes, Sautéed pears with custard and orange syrup , Provençal colombier for Pentecost, Hazelnut and orange cake, ... All |
| | Grapefruit: You can check-out other recipes which use it, like for example: Fresh fruit in sabayon, Fruit salad, Pear, grapefruit and pistachio tart, Chaud-froid of grapefruit, pineapple and lime custard , Grapefruit moelleux, ... All |
News list of cooking-ez.com
Sign up to receive the latest recipes (next batch due to be sent on 2019-05-26)
Note: We'll never share your email with anyone else.
Follow this recipe
If you are interested in this recipe, you can "follow" it, by entering your email address here. You will then receive a notification immediately each time the recipe is modified or a new comment is added. Please note that you will need to confirm this following.

Note: We'll never share your email with anyone else.