How to succeed in making sabayon (syllabub)
Remarks:
The two important points for making a good sabayon are: a pinch of flour (for easier blending) and a bain-marie (gradual rise in temperature).

Syllabub is often poured over a dessert, but you can also serve it plain in a small cup (warmed beforehand) instead of coffee or tea.

Syllabub is best served warm, on something which should be neither too hot ( not straight from the oven), nor too cold (not straight from the fridge).

This recipe is for a sweet syllabub but it can also be made savoury (see above). You will notice that in this case, because of the absence of sugar, the syllabub thickens much more quickly.
Recipes which use it: 2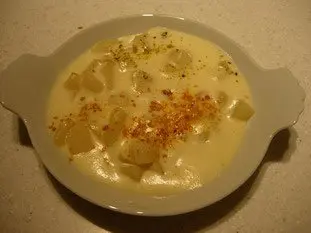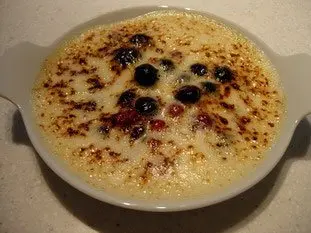 Search the recipes
.
Source:
Home made, but I am deeply grateful to Hervé This for his explanations of how syllabub works and the essential role played by the pinch of flour.
Grade this recipe
More recipes?
This recipe use (among others)
Caster sugar: You can get more informations, or check-out other recipes which use it, for example: Plum tart, Peach and verbena feuilleté, Santiago Cake, Baked Alaska, Home-made terrine of foie gras, ... [All]
Egg yolk: You can get more informations, or check-out other recipes which use it, for example: Chocolate cream with a crunch, irish coffee mousse, Confectioner's custard (Crème pâtissière, or French pastry cream), Panettone, Salmon and spinach quiche, Spaghetti with smoked salmon, ... [All]
Flour: You can get more informations, or check-out other recipes which use it, for example: Fish in a sesame crust, Oat shortbread biscuits, Vegetable clafoutis, Dublin fruit scones, Crunchy little pieces of fish, ... [All]