Chorba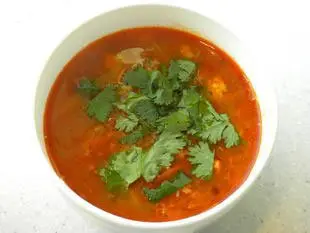 Chorba is a spicy meat and vegetable soup, typical of the Maghreb. This is my own personal version.
76,0184.3/5
Last modified on: May 4th 2012
For
6 people

, you will need:
How long does it take?
| Preparation | Cooking | Start to finish |
| --- | --- | --- |
| 57 min. | 1 hour 11 min. | 2 hours 8 min. |
Preservation: A few days in the fridge in a covered container.

At what time?

When will I finish if I start the recipe at a certain time?

When should I start for the recipe to be ready at a certain time?

Work this out...
---
Step by step recipe
1

Prepare 1 onion and chop, leave 2 cloves garlic "en chemise".

10 min.

2

Prepare and grate 3 carrots.

10 min.

3

Peel and wash 2 turnips, then grate.

10 min.

4

Wash 300 g cauliflower and only keep the small florets.

15 min.

5

Cut 200 g chicken breast into small dice.

5 min.

6

Heat 5 tablespoons olive oil in a large pan and add the chopped onion and garlic clove, salt and pepper.

Cook without colouring.

3 min.

7

Add the carrots, turnip and cauliflower. Mix well.

2 min.

8

Add the chicken and 30 g spices for couscous*. Mix well.

(* see below).

2 min.

9

Cook like this (dry) for 2 or 3 minutes, stirring frequently.

3 min.

10

Pour in 1 litre 500 ml water, add 70 g tomato paste and mix well.

Bring to the boil, then turn down the heat and leave to simmer uncovered for about an hour.

1 hour

11

After this, remove the garlic clove and discard, then add 150 g tinned (canned) chickpeas...

3 min.

12

...and 150 g vermicelli.

Leave to cook for a further 5 minutes (check the cooking time of the pasta on the paquet).

Check seasoning.

5 min.

13

Serve piping hot with a generous squeeze of lemon juice and a sprinkling of chopped fresh coriander.
Remarks
As with any "regional" recipe, please remember that this is only ONE chorba recipe and not THE chorba recipe.

The proportions are for guidance, so do vary them to your own taste.

The diced chicken can be either raw or cooked (as in the photos) and this is a good way to use up leftovers.

If you can't find a ready-made mix of couscous spices, you can make your own from: cumin, coriander (ground), cinnamon, nutmeg, ginger, cardamom and turmeric. Paprika, cloves and caraway are also sometimes used.
Nutritional information
Whole recipe
Calories
Proteins
Carbohydrates
Fats
2201
89 gr
247 gr
95 gr
110 %
34 %
23 %
14 %

Per 100 g
Calories
Proteins
Carbohydrates
Fats
63
3 gr
7 gr
3 gr
3 %
1 %
1 %
<1 %

Per person
Calories
Proteins
Carbohydrates
Fats
366
14 gr
41 gr
15 gr
18 %
6 %
4 %
2 %
% are calculated relative to a Recommended Dietary Intake or RDI of 2000 k-calories by day for a woman (change to a man).
How much will it cost?
For 6 people : 8.68 €
Per person : 1.45 €
Note : These prices are only approximate.
And to drink?: An Algerian red wine, one from the Medea region, for example, or any other full-bodied red.
Source: Home made
More recipes?
This recipe use (among others)
| | |
| --- | --- |
| | Water: You can get more informations, or check-out other recipes which use it, for example: Pizza dough, Sugar syrup, Panettone, Chicken pie, Fresh fruit in sabayon, ... All |
| | Cauliflower: You can check-out other recipes which use it, like for example: Warm cauliflower salad with two cheeses, Vegetable tartare, Warm autumn salad, Crunchy Cauliflower Salad with Lemon, How to prepare cauliflower, ... All |
| | Chicken breast: You can check-out other recipes which use it, like for example: Paté en croute (terrine in a pie crust), Thai-style Chicken with Cashew Nuts, Chinese style chicken, Beetroot and fried chicken salad, Chicken breasts in a potato crust, ... All |
| | Tinned (canned) chickpeas: You can check-out other recipes which use it, like for example: Houmous, Chickpea salad, Couscous, ... All |
visitors have also looked at
News list of cooking-ez.com
Sign up to receive the latest recipes (next batch due to be sent on 2018-12-16)
Note: We'll never share your email with anyone else.
Follow this recipe
If you are interested in this recipe, you can "follow" it, by entering your email address here. You will then receive a notification immediately each time the recipe is modified or a new comment is added. Please note that you will need to confirm this following.
Note: We'll never share your email with anyone else.