Stock-pot fish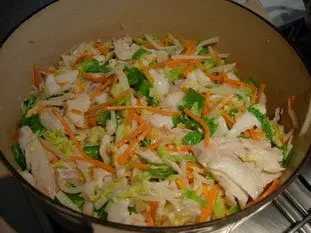 A julienne of vegetables (small sticks) mixed with choice morsels of fish, slowly cooked in vegetable stock.
227,9904.5/5
Grade this recipe
Last modified on: December 31th 2013
For
4 people

, you will need:
Change for:
Measures:
How long does it take?
Fulfillment
| Preparation | Resting | Cooking | Start to finish |
| --- | --- | --- | --- |
| 1 hour 33 min. | 3 min. | 1 hour | 2 hours 36 min. |
Preservation:
Several days in the fridge, covered by a plastic film.
At what time?
When will I finish if I start the recipe at a certain time?
When should I start for the recipe to be ready at a certain time?
Work this out...
---
Step by step recipe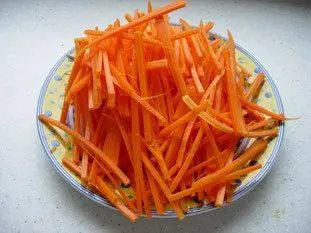 Wash, peel and cut 2
carrots
and 2 turnips into small sticks (julienne).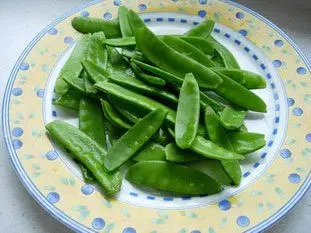 Wash 100 g mange-tout peas.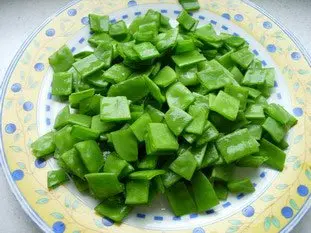 Cut into small pieces.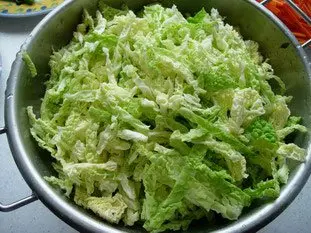 Prepare ½
green cabbage
, raw.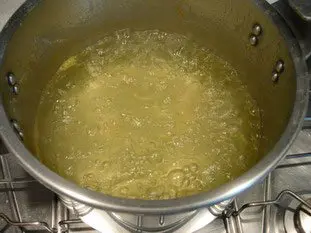 In a large pan boil about 2 litres water, add 2 tablespoons
coarse salt
.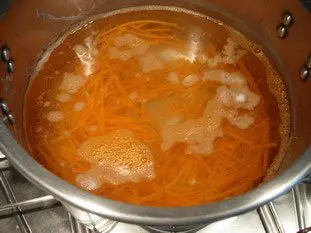 Put in carrots, bring back to the boil, and cook for about 2 or 3 minutes until the sticks are soft.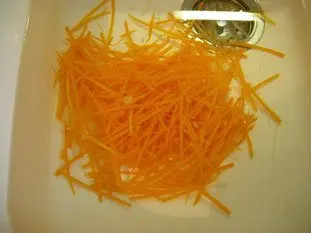 Remove carrots from boiling water, and put them in cold water.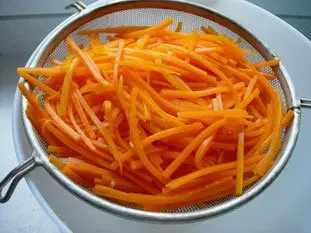 When they have cooled completely, drain and set aside.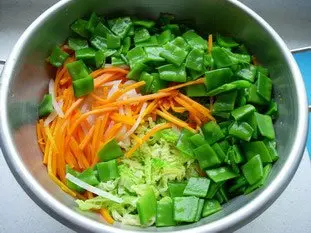 Continue like this for all the vegetables, without changing cooking water, which is becoming the vegetable stock for cooking the fish.
Set vegetables aside.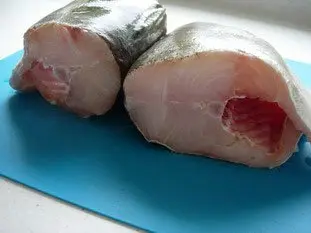 Wash 1 piece fish, it's not necessary to remove skin and bones now, that will be much easier when fish is cooked.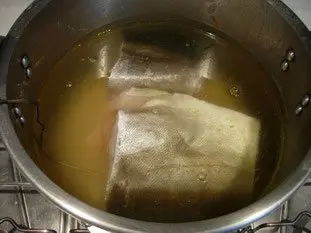 Put fish into the vegetables broth, over a low heat.
Cook gently, without boiling, just barely simmering, until it becomes opaque (about 40 minutes).
A better method: cook until internal temperature reaches 70°C or 158°F (an
electronic thermometer
is useful). Once at this temperature, the fish is cooked, and longer or hotter cooking serves no purpose.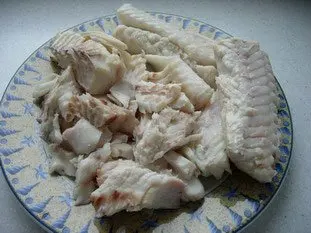 When fish is cooked, you can now easily remove skin, bones and other bits to keep only the very best of flesh.
Note
: Up to this point everything can be prepared in advance, like the day before.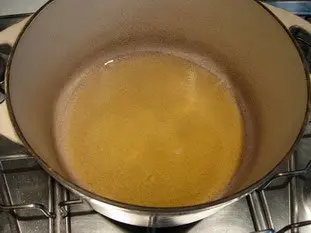 Melt 30 g
butter
in a large pan.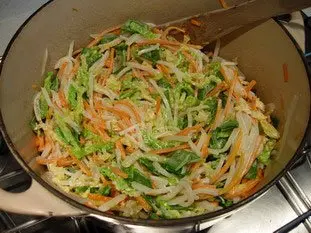 Pour in vegetables, heat through thoroughly stirring round from time to time, then add 200 ml
cream
.
Add fish.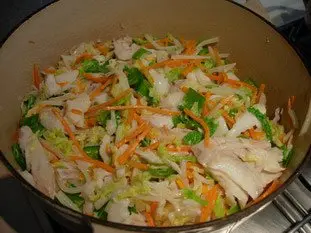 Mix well, season, and serve as soon as the mixture is nice and hot.
Remarks
You can use any kind of fish for this recipe, but it's a good opportunity to use cheaper kinds, and the fish can be prepared beforehand.

If you don't wish to use cream, it's not essential.
Nutritional information
% are calculated relative to a Recommended Dietary Intake or RDI of 2000 k-calories by day for a woman (change to a man).
How much will it cost?
For 4 people : 5.43 €
Per person : 1.36 €
Note : These prices are only approximate
Source
Home made
Grade this recipe
More recipes?
This recipe use (among others)
| | |
| --- | --- |
| | Cream: You can get more informations, or check-out other recipes which use it, for example: Chicken and mushroom pie, Potimarron and Parmesan tart, Grilled fillet of salmon with corn salad cream, Lobster Thermidor, Crème brulée, ... All |
| | Butter: You can get more informations, or check-out other recipes which use it, for example: Choux pastry (pâte à choux), Passion fruit jellies, Mushrooms on toast, French style, Fish petals, vegetables julienne, and beurre blanc, Chestnut cake, ... All |
| | Coarse salt: You can get more informations, or check-out other recipes which use it, for example: How to prepare broccoli, Preserved lemons, How to prepare endives , Foie gras cured in salt, French bean salad with vinaigrette , ... All |
News list of cooking-ez.com
Sign up to receive the latest recipes (next batch due to be sent on 2019-04-21)
Note: We'll never share your email with anyone else.
Follow this recipe
If you are interested in this recipe, you can "follow" it, by entering your email address here. You will then receive a notification immediately each time the recipe is modified or a new comment is added. Please note that you will need to confirm this following.

Note: We'll never share your email with anyone else.