French toast "cordon bleu"
---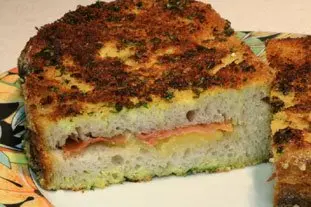 You are probably familiar with those "cordon bleu" chicken breasts filled with ham and melted cheese that so many kids seem to enjoy.

Here's a lighter, bread-based version that is deliciously moist. The bread is dipped in egg, like for French toast, then in a coating of breadcrumbs with herbs before being fried.
Last modified on: February 12th 2017
Keywords for this recipe:
French toast
Cordon bleu
Ham
Cheese
Bread