Roscoff loaf
---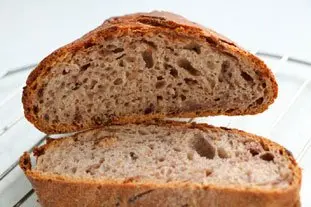 This speciality bread from Roscoff (a small town in Brittany, northwest France) is enriched with onions, red wine and smoked sausage.

What really sets this bread apart is that instead of water, the dough is made with red wine in which the sliced onions are left to soak overnight.

The onions are drained next day and cooked before being mixed into the dough.

This gives the bread a very distinctive flavour: onions, red win, smoked sausage.
Last modified on: October 24th 2017
Keywords for this recipe:
Bakery
Bread
Onions
Red wine
Roscoff city
Brittany