For
4 people

, you will need:
1

: 8 leaves Swiss chard

2

: 4 pieces fresh salmon

3

: 1 tablespoon butter

4

: 2 egg yolks

5

: 4 tablespoons lemon juice

6

: 2 tablespoons water

7

: salt

8

: pepper
Total weight: 625 grams
How long does it take?
| Preparation | Cooking | Start to finish |
| --- | --- | --- |
| 1 hour 18 min. | 3 min. | 1 hour 21 min. |
Preservation: Without the sauce, several days in the fridge, protected by a plastic film.

At what time?

When will I finish if I start the recipe at a certain time?

When should I start for the recipe to be ready at a certain time?

Work this out...
---
Step by step recipe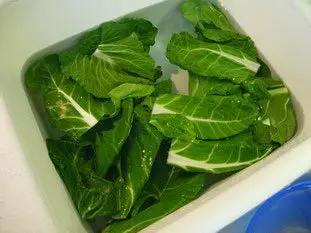 Trim the 8 leaves Swiss chard and put into warm water to wash them thoroughly.
Bring a large pan of slated water to the boil.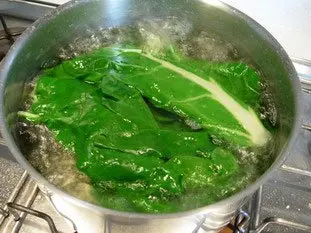 As soon as the water boils, add the cleaned chard leaves and leave to cook for 2 or 3 minutes.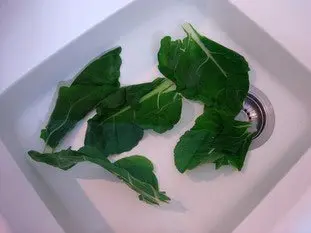 Remove the leaves with a a href="/materiel.php?id=25">araignée (spider) or
skimmer
, then plunge into cold water.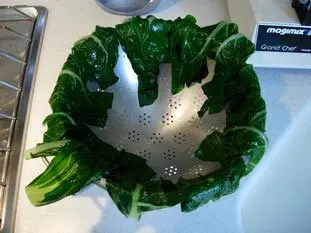 After they have cooled for a few minutes, remove the leaves and drain them.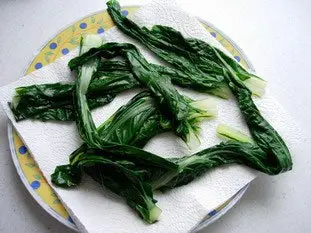 After draining, use a
salad spinner
, if you have one, to remove as much water as possible, then lay the leaves on
absorbant paper
.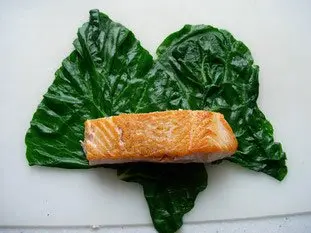 Grill the salmon portions
.
Lay out 2 chard leaves on the worktop, quite flat and overlapping a little. Place a piece of salmon on top, straight from the pan (be careful, it's hot).
Stage 7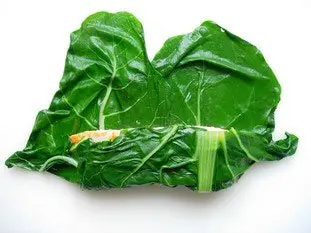 Then roll up the salmon in the leaves.
Stage 8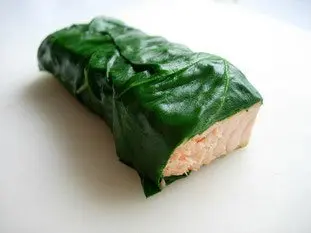 Trim off the ends of the roll neatly to show the lovely contrast between the pink of the salmon and the green of the chard.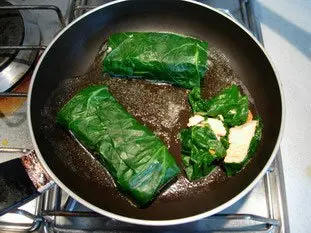 Put 1 tablespoon
butter
in a pan over medium heat, salt and pepper, then arrange the salmon rolls in the bottom together with any offcuts.
Leave on low heat just long enough to warm the leaves through for a couple of minutes on each side, as the salmon is already cooked.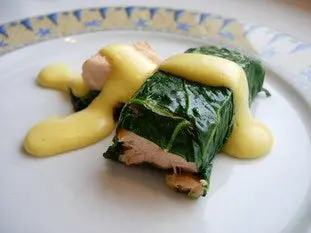 Heat the plates. Place a salmon roll in the centre with the trimmings on the side, and pour a ribbon of sabayon over.
Serve immediately.
Remarks
You can try using spinach instead of chard, which tastes just as good, but the rolls are trickier to make as the spinach leaves are very fragile and much smaller.
Nutritional information
Whole recipe
Calories
Proteins
Carbohydrates
Fats
968
87 gr
7 gr
66 gr
48 %
34 %
1 %
10 %

Per 100 g
Calories
Proteins
Carbohydrates
Fats
155
14 gr
1 gr
10 gr
8 %
5 %
<1 %
2 %

Per person
Calories
Proteins
Carbohydrates
Fats
241
21 gr
1 gr
16 gr
12 %
8 %
<1 %
2 %
% are calculated relative to a Recommended Dietary Intake or RDI of 2000 k-calories by day for a woman (change to a man).
How much will it cost?
For 4 people : 8.68 €
Per person : 2.17 €
Note : These prices are only approximate.
And to drink?: A fruity white wine, such as a Sauvignon from the Loire. Allow yourself to be tempted by a Pouilly-fumé...
Source: Home-made.
More recipes?
This recipe use (among others)
| | |
| --- | --- |
| | Lemon juice: You can check-out other recipes which use it, like for example: Corn salad with croutons, Strawberry, kiwi and mascarpone verrines, Greek salad, Tapenade, Crispy potato and mushroom brik rolls, ... All |
| | Fresh salmon: You can check-out other recipes which use it, like for example: Salmon marinated like herring, Koulibiak in pie dish, Seafood feuillantines, Summer Salmon Blanquette, Pan-fried salmon with white cabbage, ... All |
| | Water: You can get more informations, or check-out other recipes which use it, for example: Morel risotto with Vin Jaune and Mont d'Or, Pizza dough, Sesame fried scampi, Fresh fruit in sabayon, Ali Baba bread, ... All |
visitors have also looked at
News list of cooking-ez.com
Sign up to receive the latest recipes (next batch due to be sent on 2018-12-23)
Note: We'll never share your email with anyone else.
Follow this recipe
If you are interested in this recipe, you can "follow" it, by entering your email address here. You will then receive a notification immediately each time the recipe is modified or a new comment is added. Please note that you will need to confirm this following.
Note: We'll never share your email with anyone else.