5 min.

Melt 150 g

butter

, then remove from heat.

5 min.

7 min.

On the bain-marie, beat egg yolks and water until getting a smooth and creamy mixture...

...which "sticks" to whisk when you remove it from the bowl.

Beat until sauce reaches this stage.

5 min.

As soon the "sticking" stage is reached, pour melted butter a little at a time into the mixture, while beating continuously.

1 min.

When all the butter is added, finish by adding 2 tablespoons lemon juice, while still beating.

Taste to check seasoning, and if there is enough lemon. If not, add some more lemon juice, then beat a little more to mix thoroughly.

Your Hollandaise sauce is ready, it can wait a short while, covered in the bain-marie, off the heat.
Remarks:
For a tastier Hollandaise sauce, replace water with dry white wine, or even better a mix of white wine and vinegar reduced to half in a pan on low heat.
For these kind of "emulsified warm sauces" (so called by chefs) one wrong move and your sauce collapses. In other words you are proud of the nice emulsion that is forming under your whisk, and then in a second you have an ugly curdled butter mixture in the bottom of your bowl...
What's happened? Probably your sauce needed more water, in other words the very small volume of water eventually evaporates due to the heat and beating, and without this water your sauce collapses (same as your morale - have you noticed?).

What can I do? You can try to recover the sauce by removing bowl from bain-marie, add 2 tablespoons of cold water, and start to beat again. This is not a totally sure method, but it usually works.
For adding butter, you will find many different recipes all claiming to be the only one that works: cold butter, very cold, in small pieces, clarified, etc. At my opinion there is no real difference between them. I found the way with melted butter easier and so I use it each time.
Recipes which use it: 2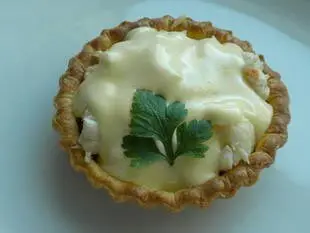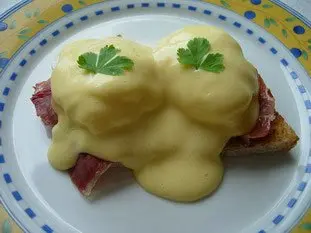 Search the recipes
.
Source:
Home made.
Grade this recipe