List of recipes using "Sweets":
7 recipes

(lactose free)

List of recipes using "Sweets"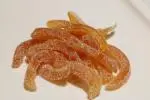 Not really a dessert, more a kind of sweet. After soakiing, strips of grapefruit skin are cooked very slowly to conservethem in sugar. It's a real treat with coffee at the end of a meal.
312K
1
4
1 day 1 hour 21 min. December 20
th
2018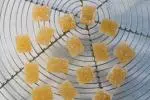 This traditional French "pâte de fruit" (fruit paste or leather) has a distinctive, firm consistency and is full of flavour, with the characteristic tang of quince. The preparation is rather long, but the result is well worth all the effort.
24K
1
2 hours 3 min. December 3
rd
2017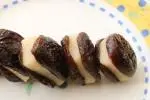 Stuffed prunes are a sweetmeat made with halved dried prunes sandwiched together around a morsel of marzipan flavoured with Armagnac.
18K
20 min. July 18
th
2018

These delicious nuts can be used in several cakes, but you can also put them on ice-cream, pancakes, fruit salad, or eat them just as they are.
324K
5
22 min. February 21
th
2011

Similar to marzipan or walnut paste, coconut paste can be used in a variety of cake or sweet recipes, but you can enjoy munching it just as it is.
246K
1
4.7
15 min. October 13
th
2010

Pistachio paste has a similar texture to almond paste, but the similarity ends there, as its flavour and colour are quite characteristic.
306K
15
3.8
48 min. October 13
th
2010

Royal icing is a mixture of egg white and icing sugar. From its pasty consistency when fresh, it dries to give a lovely white crust.
166K
4.7
13 min. February 12
th
2012