List of recipes using "Terrine":
4 recipes

(lactose free)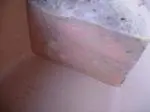 This simple way preparing a terrine of foie gras is ideal for beginners. In this recipe the liver is passed through a sieve or vegetable mill rather than kept in large pieces. The final appearance is smoother, less marbled, but just as delicious.
55,061 1
5/5 for 9 ratings 17 hours 8 min.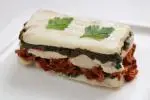 This terrine is made up of alternating layers of fish fillets with spinach and preserved tomatoes. It is cooked gently in the oven, then served in slices (yes, it really is a kind of terrine) with hollandaise sauce, for example.
432
5/5 for 1 ratings 1 hour 52 min.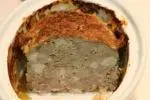 This is a rather special rabbit terrine, with some of the meat added in larger morsels to the minced mixture before cooking. These whole pieces of rabbit show when the terrine is sliced and add character, both in flavour and texture.
6,397
4.6/5 for 19 ratings 15 hours 32 min.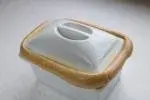 The French have a term for it: "luter", which means to seal around the lid of a cooking dish with dough. The dough forms a crust and hermetically seals in all the steam and flavours while the dish is cooking in the oven. This is a good way to concentrate flavours. The dish is brought to the table...
9,360
3.8/5 for 17 ratings 33 min.