List of recipes using "Brussels sprout":
2 recipes

(lactose free)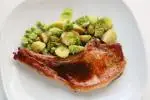 In this recipe, the pork chops are pan-fried and served with a sauce of the reduced pan juices and white-wine, and two different brassicas: Brussels sprouts and romanesco.
5,813
4.3/5 for 12 ratings 46 min.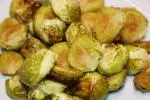 Here is an original way to pep up Brussels sprouts: roasted in the oven. Cooked this way, they will be lightly crisped on the outside and melting in the middle.
8,199
4/5 for 1 ratings 53 min.