List of recipes using "Fillet":
11 recipes

(lactose free)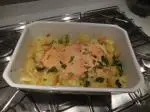 This is a quick recipe for salmon fillet, surrounded by sliced potatoes and baked with lemon juice, olive oil and herbs.
12,675
4.6/5 for 16 ratings 33 min.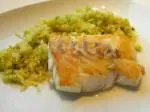 A thick fish fillet stuffed with slices of preserved lemon - crispy on the outside and tender inside.
21,853
4.3/5 for 11 ratings 36 min.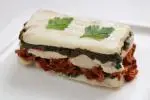 This terrine is made up of alternating layers of fish fillets with spinach and preserved tomatoes. It is cooked gently in the oven, then served in slices (yes, it really is a kind of terrine) with hollandaise sauce, for example.
227
5/5 for 1 ratings 1 hour 52 min.

Mackerel fillets in white wine are the kind of thing we normally buy ready-made in a tin, as a quick snack. But preparing them at home is straightforward and so much better. Here is how to create this classic yourself, step by step.
8,716
3.7/5 for 20 ratings 2 hours 26 min.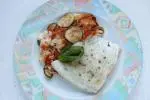 This oven-baked recipe teams layers of rice and vegetables (sesame-flavoured rice, sautéed courgettes, onions and tomatoes) with fillets of fish (pollack here) and thyme laid on top. Everything is then cooked together in the oven.
6,802
4.3/5 for 15 ratings 1 hour 7 min.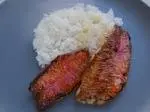 For this recipe, the marinade is made in a jiffy: oil, lemon, parsley, salt and pepper. The red mullet fillets are marinaded for an hour, then pan-fried quickly. They are served with plain white rice.
13,765
4.6/5 for 5 ratings 1 hour 21 min.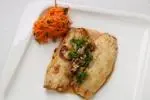 For this recipe, the red mullet fillets are fried in a large saucepan, then removed and kept hot. The "jus court" sauce is made by reducing dry white wine with spring onions in the pan used to cook the fish. The small quantity of sauce left (its French name literally means "short juice") is very...
4,887
3.8/5 for 17 ratings 30 min.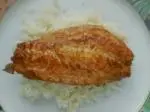 In this recipe, fillets of red sea bream are marinated in a mixture of soy sauce, lime juice and olive oil before being pan fried.
17,554
4.9/5 for 11 ratings 25 min.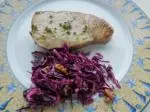 Cooking tuna can be tricky: undercooked it is unappetising, overcooked it dries out rapidly. Here is a method which guarantees that your tuna will be perfectly cooked and tender.
13,090
4.7/5 for 18 ratings 49 min.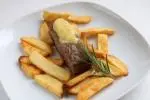 This is a sophisticated way to cook beef fillet (tenderloin): we make an unleavened bread dough (which will not be eaten), adding plenty of salt and lots of roughly chopped springs of rosemary. The beef fillet is seared all over in a frying pan, then wrapped in the dough before being cooked in a hot...
6,496 1
4.8/5 for 12 ratings 50 min.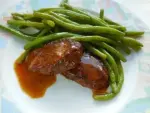 For this recipe with a Mexican flavour (New Mexican, actually), I have used tender medallions of pork fillet mignon. These are first marinated in a spicy oil then pan-fried with the remaining marinade. Serve with green beans and sauce made with a reduced vegetable stock in the frying pan.
6,905
5/5 for 1 ratings 44 min.