List of recipes using "Mint":
5 recipes

(lactose free)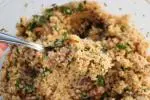 Tabbouleh is a Middle Eastern couscous salad., moistened with olive oil and lemon juice. Its flavour comes from plenty of fresh herbs (mint and parsley at the very least), onion and tomatoes. This refreshing dish is ideal for warm summer or autumn days.
2,493 3 hours 24 min.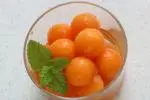 It is tempting to call this a melon Mojito: little balls of ripe melon in a light Mojito-flavoured syrup with mint, rum and lime.
9,068
4.5/5 for 11 ratings 45 min.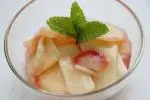 A simple fruit salad of white peaches bathed in mojito flavours: lime, rum and mint (with a delicate hint of vanilla).
860 39 min.

Here is a very simple, fresh and delicious recipe; the flavour of mint goes very well with peaches.
86,075 2
4/5 for 1 ratings 20 min.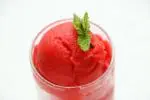 For this strawberry and mint-flavoured sorbet, we will be using an unusual method: blending the strawberries with mint leaves. This mixture is then left overnight for the flavours to mingle before being strained and then churned. This makes a delicious sorbet with its full-on strawberry flavour...
5,283
3.8/5 for 19 ratings 12 hours 26 min.