List of recipes using "Sea":
9 recipes

(lactose free)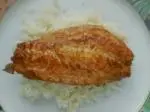 In this recipe, fillets of red sea bream are marinated in a mixture of soy sauce, lime juice and olive oil before being pan fried.
18,051
4.9/5 for 11 ratings 25 min.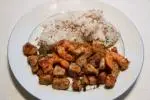 A mix of diced fish and uncooked prawns marinated with spices and then simply cooked on a plancha. The fish benefits from the acidic citrus note provided by the lime, and the prawns from a little vinegar.
4,545 1 hour 33 min.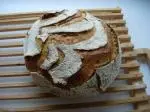 The idea for this bread was inspired by an amusing coincidence: the proportion of salt needed for good bread is 35 g of salt per litre of water, which just happens to be the exact concentration of salt in the Atlantic Ocean. So it's possible to make bread using sea water to provide all the salt...
51,607 6
4.5/5 for 2 ratings 5 hours 7 min.

Herb salad is a small salad made with leaves of all kinds of aromatic herbs, it's highly flavoured, and should be considered almost as a condiment. It really is a salad, the leaves are not chopped.
70,473
4.6/5 for 14 ratings 22 min.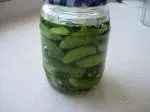 Preparing your own gherkins in vinegar is quite straightforward, if you know how to avoid a few pitfalls. Here's a recipe which works every time.
97,016 7
3.1/5 for 12 ratings 4 hours 36 min.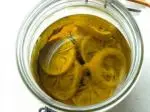 For this recipe, the lemons are sliced first (this makes them easier to use later), then salted to drain off the juice before being bottled in herb-flavoured olive oil. These preserved lemons can be used in all sorts of dishes, especially with fish and poultry.
21,266 1
5/5 for 13 ratings 12 hours 36 min.

This dressing is a kind of mayonnaise with vinegar, used for some salads like celeriac rémoulade. Usually it is prepared from mayonnaise, but here is another version, simpler and just as tasty.
103,030
3.9/5 for 17 ratings 6 min.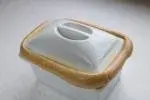 The French have a term for it: "luter", which means to seal around the lid of a cooking dish with dough. The dough forms a crust and hermetically seals in all the steam and flavours while the dish is cooking in the oven. This is a good way to concentrate flavours. The dish is brought to the table...
9,350
3.8/5 for 17 ratings 33 min.

Paella is a traditional Spanish dish made with round rice, associated mainly with the Valencia region. The name comes from the large two-handled pan in which it is traditionally prepared. This is an adapted version with a mix of meat, vegetables and shellfish.
80,993
4.1/5 for 16 ratings 2 hours 58 min.