List of recipes using "Franche-comté":
2 recipes

(lactose free)

Probably a swiss recipe originally, but also known in the French region of Franche-comté. This version is more sophisticated.
77,218
4.2/5 for 10 ratings 40 min.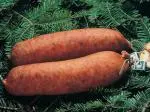 This is, in my opinion, the best smoked sausage. You can cook it in a number of ways, here are three of the best known.
57,195
4/5 for 6 ratings 40 min.