List of recipes using "Chicory":
4 recipes

(lactose free)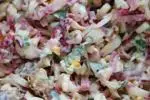 Have you tried red Belgian endives? They are similar in size to the more common white sort, just as crunchy, but slightly less bitter. They are the main feature in this salad inspired by French bistro cuisine: combined with chopped hard-boiled eggs, fried ham and croutons, in a rémoulade dressing.
254 29 min.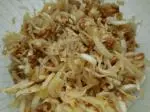 This salad has a double dose of walnut flavour: walnut oil in the vinaigrette and crunchy walnut kernels.
14,127
4.9/5 for 11 ratings 22 min.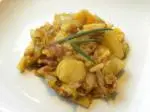 A one-pot endive dish with potatoes, onion and bacon. [Translator's note: the French "bonne femme" style is good, straightforward home cooking (whether the cook is a man or a woman!).
25,059
4.3/5 for 19 ratings 1 hour 23 min.

A very classic recipe, but which can easily fail due to two main errors: too much water in bottom of dish because endives give off a lot, and endives that are too bitter so that children hate it. Here is a method which avoids these two problems.
30,487
3.7/5 for 18 ratings 26 min.