List of recipes using "Pistachio":
3 recipes

(lactose free)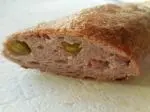 Saucipain (or sausage bread) is a kind of savoury baguette. The dough contains small dice of dry-cured sausage or salami and is mixed with red wine instead of water. Served sliced in rounds, it makes a typically French aperitif snack.
11,525
3.8/5 for 17 ratings 4 hours 26 min.

Pistachio paste has a similar texture to almond paste, but the similarity ends there, as its flavour and colour are quite characteristic.
101,250 15
3.8/5 for 6 ratings 48 min.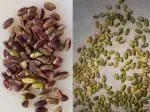 If you buy pistachios shelled but still in their skins (cheaper than ready peeled), you shouldn't use them like this. They need to be "skinned", removing the skin which is pretty unpleasant to eat. Here's a fairly easy way to do it.
2,717
3.3/5 for 3 ratings 28 min.