List of recipes using "Caramelized":
3 recipes

(lactose free)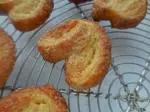 Palmiers are a traditional French patisserie, consisting of folded puff pastry caramelized with sugar. These small versions are made with the shop-bought puff pastry that comes ready-rolled in a circle.
15,929
5/5 for 1 ratings 39 min.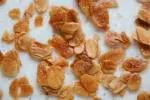 Toasted flaked almonds are the perfect finishing touch for desserts, ice creams in particular, because of their delightful crunch.
52,372
4.8/5 for 20 ratings 27 min.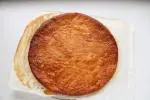 When puff pastry is caramelized to use in patisseries like millefeuille, French chefs call it a "feuilletage" (which means "lamination" or "leafing"). This is baked on its own before being assembled with cream, fruit, etc. The baking needs to be carefully managed: the pastry should puff into layers,...
8,057 2
5/5 for 20 ratings 36 min.